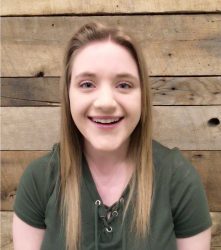 Drake University student Shannon Herzog is a 2018-2019 recipient of the Goldwater Foundation Scholarship, a prestigious award for students pursuing careers in the fields of mathematics, natural sciences, and engineering. Herzog, a junior chemistry and biochemistry, cell and molecular biology (BCMB) major from White Bear Lake, Minn., was selected from more than 1,200 students nominated nationwide.
Herzog works on an undergraduate research team under Debora Christensen, associate professor of biology, to study the transgenerational effects of the environmental contaminant bisphenol A (BPA) on neurological and reproductive development in zebra finches. Her career goal is to study polymer based drug delivery systems as a physician-scientist at an academic medical center.
"My jaw dropped with excitement upon finding out I was a recipient of the 2018-2019 Goldwater Scholarship—to say I'm grateful is an understatement," Herzog said. "This award is a clear testament to Drake University's rigorous academic programs and dedicated faculty, both of which play an integral role in student growth at Drake. I am blessed to be surrounded by so many faculty mentors, whose support throughout the application made the award a team effort."
The U.S. Congress established the Goldwater Foundation Scholarship in 1986 in honor of Senator Barry M. Goldwater. The scholarship was designed to foster and encourage outstanding students to pursue careers in the fields of mathematics, natural sciences, and engineering. Herzog will receive $7,500 for the 2018-2019 academic year.
"I am so excited for Shannon to receive this nationally prestigious and highly competitive scholarship, "said Gholam Mirafzal, professor of chemistry at Drake University and faculty representative for the Goldwater Scholarship. "Shannon is a great researcher and is a well-rounded student with an outstanding record of accomplishments with her classes, research, extracurricular activities, and community services."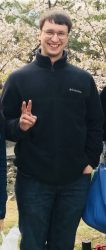 In addition, Colton Sleister, a sophomore chemistry, BCMB, and math triple major from Ankeny, was an honorable mention for the 2018-2019 Goldwater Scholarship.
Colton works in Professor Mirafzal's organic research laboratory to investigate ionic liquids synthesis and its application as medium for organic reactions, a green approach in conducting reactions in chemistry. His career goal is to go to graduate school and obtain his Ph.D. in medicinal chemistry.
"Colton's application came very close to being selected and he should be very proud of being among the 2018-2019 Goldwater honorable mentions," Mirafzal said. "Shannon and Colton will be excellent future scientists who will contribute greatly to their respective fields of study."
Mirafzal works closely with student candidates on their award applications and supports them in their research efforts.
Universities are allowed to nominate up to four undergraduate students for the Goldwater Foundation Scholarship each year. The application process is highly competitive, and the award is widely considered the most prestigious of its kind in the nation.
Prior to Herzog, Drake's most recent Goldwater Scholar was Paige Diamond, who received the award in 2015-2016. More information about the Goldwater Scholarship is available online.
"I am thrilled to be named an honorable mention by the Goldwater Scholarship Program, and I want to thank the numerous Drake University professors, such as Drake University's Goldwater Coordinator [Gholam] Mirafzal, for their assistance in preparing a strong application," Sleister said. "I owe my success in the Goldwater Program to their experience and helpfulness! Most importantly, I want to thank Drake University professors for their dedication to student learning in both classroom and research settings. I am grateful to attend a university with professors who are dedicated to student learning in classroom and research settings, which is exactly what Drake is!"