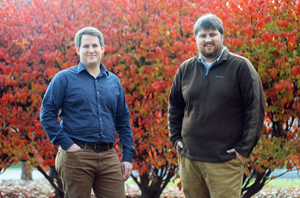 Drake Law students come from a variety of backgrounds. Two first-year students—Joel Aschbrenner and Grant Rodgers—are former reporters for the Des Moines Register.
A native of Wichita, Kan., Aschbrenner majored in journalism at Kansas State University. He moved to Iowa and began working at the Des Moines Register in 2012. Most recently, he worked as a business reporter and columnist covering real estate development and downtown issues.
Rodgers, of Ottumwa, Iowa, was also a journalism major at Simpson College. An internship at the Des Moines Register turned into a full-time job when he graduated in 2013. For the past several years, Rodgers covered high-profile criminal and civil cases in the Polk County, Iowa, and federal courts.
"When I covered the courts, I watched a lot of people's struggles in the criminal justice system," Rodgers says. "I decided I wanted to be an advocate instead of a neutral observer. I wanted to play an active role in resolving people's problems."
As Rodgers prepared to take the LSAT, he sparked Aschbrenner's interest. Aschbrenner had previously considered law school before his journalism career. He started studying and took the test a few months later.
"I totally rode Grant's coattails and followed him here," Aschbrenner says, laughing. "I even used the same LSAT tutor."
When it came time to choose a law school, Drake was an easy choice. Both Aschbrenner and Rodgers saw connections to Drake Law School in their work at the Des Moines Register, and they often interviewed Drake Law faculty as sources.
"It's hard to move about the legal community without finding people who are connected to Drake Law School in some way or another," Aschbrenner says.
After enrolling at Drake, Aschbrenner and Rodgers had to adjust to life as students. The transition from a fast-paced newsroom to a classroom environment was especially difficult.
However, their journalism backgrounds also provided some benefits. Rodgers explains that news stories emphasize the lead and nut graf—a paragraph that summarizes the main points or theme in the story. Although he admits legal writing is very different from news writing, Rodgers says his experience in distilling complex issues into a short statement is useful for exams.
Aschbrenner agrees that it "doesn't hurt to have a writing background."
"There are habits and techniques we had to unlearn and relearn in law school," Aschbrenner says. "But I'm a big believer that writing is a muscle you have to exercise, so I'm glad writing has played a significant part in my career."
Rodgers says his job covering the courts in Des Moines also gave him an advantage.
"Because of what I did—talking to lawyers all day as my sources—I'm in a unique position coming into law school," he says. "It's really comforting knowing that I have a network of people in the legal community."
Although Aschbrenner and Rodgers are keeping their options open, they both expressed interest in the areas of law that align with their respective reporting beats at the Des Moines Register. Aschbrenner says he wants to explore real estate and land use, while Rodgers is interested in criminal defense and civil litigation.
Aschbrenner says the analytical, reading comprehension, and writing skills learned in law school would be applicable to numerous careers.
"We've been through a semester of law school, and just the tiny taste we've received so far would already make me a better journalist," he says.
Both students are looking forward to getting more involved in Drake Law School's programs and clinics. Aschbrenner has accepted a position as a summer associate at the Davis Brown Law Firm in Des Moines, and Rodgers is involved in Drake's chapter of the American Association for Justice.
As they near the end of their first year at Drake Law School, Aschbrenner and Rodgers offer one piece of advice for future students.
"Grant and I have been good friends outside of school and work for a long time," Aschbrenner says. "Having a close friend to go through this experience with makes it much more pleasant. That's been a big help."
"It definitely has," Rodgers agrees.