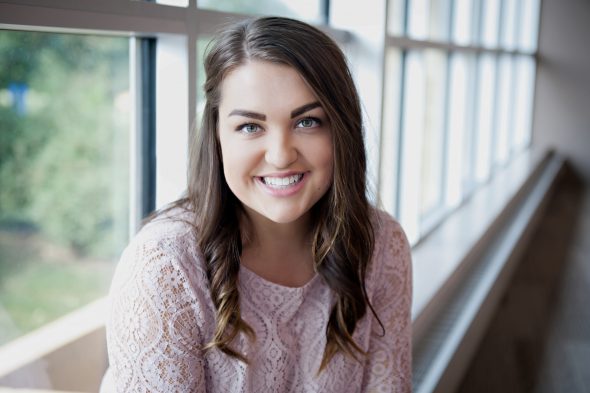 Drake University senior Meghan Walters of West Bend, Wis., has been offered a prestigious 2018–2019 Fulbright Scholarship. With her acceptance to the Fulbright English Teaching Assistant program in Bulgaria, she joins a lengthy list of Bulldogs to have been offered the Fulbright scholarship.
Pending completion of final paperwork and routine medical checks, the international relations and public relations double-major will be Drake's 35th Fulbright student since 2000-2001.
"It still feels very surreal," said Walters, who was notified of her status as a finalist (Fulbright's term for an applicant who has been offered a student award) on Thursday, April 5. "I'm unbelievably excited—I'm on cloud nine right now. Nothing could darken my day."
Drake has had Fulbright ETAs in Bulgaria for five consecutive years, including Walters' upcoming year of service; she will serve alongside Nathan Jacobson, a 2017 Drake alumnus, who is completing his first year in the country and recently accepted an offer to stay and teach for a second year.
"Having five Drake students awarded with Fulbright grants to teach in Bulgaria over the past five years is an exciting development," said Associate Professor of History Karen Leroux, Drake's Fulbright program advisor. "It reflects well on our students' preparation for intercultural professional experiences and community engagement abroad."
Walters will spend 10 months in Bulgaria, starting in late August or early September. She looks forward to studying how the nation's shifting social and political context affects classroom learning.
"In talking with Fulbright students in Bulgaria, that nation's program drew me in like no other," Walters said. "[Bulgaria] is small, but it has a lot of historical influences. Most recently and noticeably, they've seen a return to democracy and opening of their economy after the fall of the Soviet Union; but now we're seeing, in Eastern Europe, arguably a pulling back from democracy. There are so many influences that are affecting the classroom experience."
The country is distinct for its Bulgarian English Speech Tournament Foundation (BEST), a program for Bulgarian students founded by Fulbright ETA participants. As a teacher in that program, she'll have the opportunity to integrate skills she learned in theatre classes here at Drake with her studies in international relations, teaching, and public relations.
Drake has provided Walters with a number of global opportunities that helped her to prepare for this life-changing experience. During her sophomore year, Walters received an AmeriCorps grant to work at a refugee center where she taught citizenship classes, English phonetics, and a kindergarten preparedness class. While studying abroad in Morocco during her junior year (in spring 2017), she worked at a school for children with physical and mental disabilities.
Leroux worked closely with Walters for more than a year as she prepared her application. Faculty members in the history department, sociology department, and even athletics department provided advice and mentorship, helped review her applications, and even led her through mock interviews. Current and past Drake Fulbright recipients also offered their guidance and support.
"My application would be nowhere near what it was without the Drake alumni, Drake staff, and faculty members who supported me through the entire process," Walters said. "If anyone is considering applying for the Fulbright, or for anything else really, I would say: Just go for it. At Drake, so many people are here to help you through it."
Drake has been named a top producer of Fulbright Scholars four of the past five years, and a total of six times since 2006–2007.