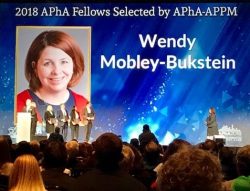 Dr. Wendy Mobley-Bukstein, Assistant Professor of Clinical Pharmacy Practice at Drake University, was selected as a 2018 Fellow by the APhA Academy of Pharmacy Practice and Management (APhA-APPM). She was recognized at the APhA Annual Meeting and Exposition in Nashville, March 16-19, 2018. To become a Fellow, members must have demonstrated exemplary professional achievements and service to the profession through activities with APhA and other national, state or local professional organizations.
Mobley-Bukstein said she wanted to be a pharmacist since the sixth grade and becoming an APhA Fellow is a highlight of her career.
"Being able to be a consistent part of my patient's healthcare team has always been my goal. I am honored and humbled to be recognized for my work in the profession," Mobley-Bukstein said.
Mobley-Bukstein has been an APhA member for many years, has obtained several certifications, and gone through the training to be an instructor of APhA educational programs. She has completed the Medication Therapy Management program and is an instructor of the program at Drake for students as well as practitioners. She has been innovative in the offering of that program and piloted an online course offering.
She has participated in several committees, been a poster judge, and served as a House of Delegates representative. She has served as the Diabetes Special Interest Group Coordinator and currently sits on the APhA-APPM Executive Committee as a Member at Large. At Drake, she has taken on the role of co-advisor of the APhA-ASP chapter and has had a positive influence on students becoming involved members in the various ASP programs.
Dr. Renae Chesnut, Dean of the College of Pharmacy and Health Sciences said Mobley-Bukstein is dedicated and engaged in each endeavor she takes on and that her service is exemplary.
"As someone who has been involved in a number of initiatives, she has left them in a better place than prior to her leadership and involvement," Chesnut said. "Furthermore, she has been a wonderful advocate for APhA on our campus with our students and in our state with other pharmacists, encouraging others to become members and be involved."
Mobley-Bukstein has also been active in the American Association of Diabetes Educators (AADE), Kappa Psi, and the Iowa Pharmacy Association in addition to being a member of several other organizations during her professional career. She has served CPHS and its students by being the Kappa Psi Grand Council Deputy since 2013. Recognizing her leadership, the Phi Lambda Sigma chapter inducted her as a member in 2014.
Chesnut said despite the added work, Mobley-Bukstein has improved the professional environment at Drake, the pharmacy profession, and in the APhA-ASP chapter.
"She treats the students as colleagues and professionals which has had a tremendous impact on their development in becoming professionals," Chesnut said. "She maintains an open door policy, which is frequently used by students when they are in need of her assistance. This service to our future professionals led her to be nominated numerous times as Teacher or Mentor of the Year."