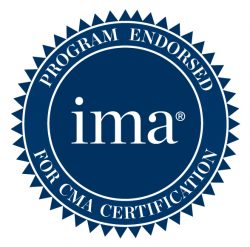 Drake University's undergraduate accounting program has earned endorsement by the Institute of Management Accountants (IMA), one of the world's largest associations focused exclusively on advancing the management accounting profession.
Drake is the only university in Iowa and one of only 36 schools in the United States to receive this endorsement, which recognizes programs that meet high educational standards in preparing students to pursue the Certified Management Accountant (CMA) credential.
To qualify for endorsement by IMA, schools must meet the following criteria: (1) the program must substantially cover the CMA exam content; (2) the program must have adequate faculty resources to deliver this content; (3) the program must be accredited by a recognized accreditation organization (e.g., AACSB, ACBSP, EQUIS, etc.); and (4) a faculty member must be designated as an IMA Campus Advocate.
"This endorsement from the Institute of Management Accountants (IMA) is a mark of excellence. It speaks volumes about the rigor and relevance of Drake's accounting program, the quality of our faculty, and the professional preparations we provide our students," said Dan Connolly, dean of the College of Business and Public Administration at Drake University. "This designation distinguishes Drake's accounting program from those offered at many other institutions and allows us to offer a managerial accounting track in addition to the public accounting track, thereby expanding the career options available to our students."
Among the students who earned a Bachelor of Science in Business Administration in Accounting from Drake in 2017:
100 percent completed at least one internship or other practical professional experience prior to graduation.
100 percent either held a full-time job related to their professional goals or were enrolled in graduate school within six months of earning their degree. (Forty-three of the 47 graduates had full-time jobs related to their professional goals.)
From day one, students pursuing a Bachelor of Science in Business Administration (BSBA) in Accounting take program-specific courses taught by expert faculty members—something that isn't found at every college or university.
Internship and professional experiences are generated by the Drake's close interaction with Des Moines and Midwest accounting communities, including all of the 'Big 4' accounting firms, Fortune 500 firms, and government agencies.
##
Drake University's College of Business and Public Administration is accredited by AACSB International—The Association to Advance Collegiate Schools of Business.