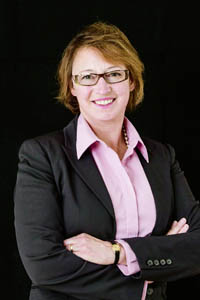 Donna Suchy, managing counsel, intellectual property at Rockwell Collins and chair of the American Bar Association (ABA) Section on Intellectual Property Law, will present "Cybersecurity: Everyone is Talking About It."
The lecture, which is part of the Drake Intellectual Property Law Center's Big IDEA Speaker Series, is scheduled for April 6, 3 p.m., at Cartwright Hall, Room 203. It is free and open to the public.
At Rockwell Collins, Suchy is responsible for developing and implementing patent corporate strategy, litigation, and due diligence, as well as advising corporate management on the legal and operational implications of intellectual property laws.
A registered engineer in Texas and Oklahoma, Suchy has worked in a wide range of technical and legal areas including electrical, chemical, software, computer technology and optics, energy, and media law.
Previously, she worked at Eastman Kodak as both an inventor and corporate counsel for commercial business. She also worked as an engineer at an energy company, and she was in charge of asset evaluations for multimillion-dollar portfolios at a regional bank.
Suchy has written and lectured on legal topics including patent prosecution, corporate transactions, and intellectual property law. She also recently authored a book on protecting intellectual property in China.
In addition, Suchy has spoken at numerous national legal forums on intellectual property issues and has taught courses in intellectual property and law at the Rochester Institute of Technology, University of Iowa, and Iowa State University.
Suchy received her bachelor's degree in physics and math from the University of Iowa, master's degrees in mechanical engineering from New Mexico State University and petroleum engineering from the University of Texas-Austin, and her law degree from Oklahoma City University.
The lecture has been approved for 1.0 CLE hour (Activity Number: 295830).
---
The Drake Intellectual Property Law Center was created in fall 2007 to promote global, interdisciplinary understanding of intellectual property law and policy. The center was established with the support of a $1.5 million gift from Wayne, LW'72, and Donna Kern, which endowed the Kern Family Chair in Intellectual Property Law, and a $750,000 leadership commitment from DuPont Pioneer.
Launched in fall 2016, the Big IDEA Speaker Series brings renowned intellectual property law experts to Drake University's campus to share their ideas about innovation and entrepreneurship.
Learn more about the Intellectual Property Law Center.