SJMC hosts exhibit by local high school students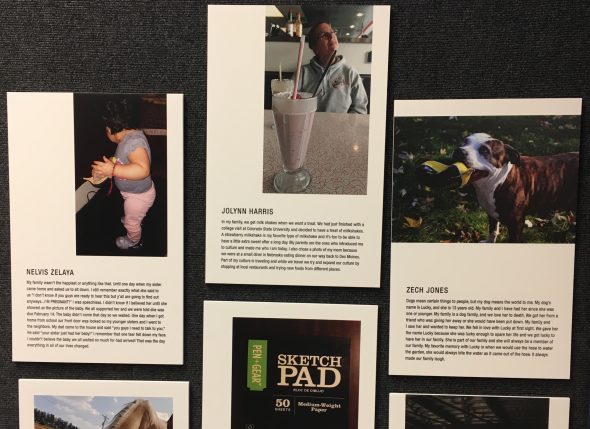 The north lobby of Meredith Hall will host a photo exhibit featuring the photos of local high school students, through the end of April. The show is a product of CultureALL, a Des Moines non-profit that encourages communication across difference through cultural programming. 
DBS Relays
Want to help with the DBS Drake Relays Broadcasts? Join DBS Tuesday at 7 p.m. in the studio of the Meredith basement to learn how to get involved. The group is looking for camera operators, editors, reporters and talent. No experience needed for most positions. Contact tess.julien@drake.edu with questions.
Cowles exhibit features famed editorial cartoonist
Cowles Library is set to unveil an exhibit on the life and work of Jay N. "Ding" Darling, the famed Iowa newspaper editorial cartoonist and environmentalist. The first event will be Wednesday, March 28, 7-8:30 p.m. in the Cowles Reading Room. Featured speakers are Sam Koltinsky, the curator of the Jay N. Darling Center; Joe McGovern, the president of the Iowa Natural Heritage Foundation, and local editorial cartoonist Brian Duffy.
SJMC finalists in SPJ contest
SJMC student work is among the finalists in the Society of Professional Journalists Region 7 contest. The Drake finalists are in 10 categories ranging from news reporting to multimedia:
Senior Jessica Lynk for

General News Reporting

Senior Katherine Bauer for

Breaking News Reporting

Adam Rogan, JO'17, for

Sports Writing

Molly Longman, JO'17, for Non-Fiction Magazine Article for Drake Magazine's

"On Thin Ice"

Jennifer Krane, JO'17, for Best Student Magazine (The Annual, 2017)
Senior Sam Fathallah for Feature Photography for

"Very Velvet"

Matt Gogerty, JO'17, and Adam Rogan, JO'17, for

Online Sports Reporting

Seniors Nate Sohn and Anne Matte for

Best Use of Multimedia

Angela Ufheil, JO'17, for

Online Feature Writing

And

Urban Plains

for Best Independent Online Student Publication
Winners will be announced at the SPJ regional conference in Ames on April 13-14.
Ad Principles added to fall schedule
JMC 76 Advertising Principles CRN 3058 has been added to the fall schedule. It is scheduled for Tuesday-Thursday, 9:30-10:45 a.m.
Drake alums win international creative awards
Rhino Hyde Productions, a St. Louis-based creative agency run by two Drake alums, has won two platinum awards in the AVA Digital Awards, an international competition that recognizes excellence in the planning, concept, direction, design and production of digital communications. Sarah Reinwald Guldalian, a 2003 broadcasting alum, is the agency's CEO and her brother Jordan, a 2001 theater and marketing alum, is creative director. 
Classroom etiquette reminder
A reminder that if you use a classroom in the evening for a meeting and rearrange the furniture, please put the room back as you found it for classes that are taught the next morning. This is especially important if you move chairs and tables from other rooms.
J-Term travel registration opens
Registration for January Term 2019 travel seminars is now open.  You can find information for travel seminar registration procedures, timeline and eligibility requirements on the J-term travel course registration page. You can apply for a travel seminar here: https://drake-sa.terradotta.com. The application deadline is Sunday, April 15. 
 If you have any questions about the registration procedures or the system, you can contact the Study Abroad Office (515-271-2084, StudyAbroad@Drake.edu) for assistance.
Learn more about the JMC travel seminar Chile: Land of Opportunity on the planning website.
Get ready for registration
Registration for summer, fall and January Term classes starts April 2 and ends April 11. Make an appointment now with your adviser or advisers to ensure that you are on track for graduation. 
The registration schedule is posted here. Students register in the order of credits completed, not counting this semester. Those with the most credits register first; those with the fewest register last. The schedule of fall 2018 classes is available on BlueView.
Please come to your advising appointment with:
A completed checksheet for your major (available here)
A completed "SJMC Remaining to Graduate" form
A copy of your audit (electronic or printed)
A draft of your fall schedule, with alternatives
Before you meet with your adviser:
Log into blueView to make sure you have access and know your username and password. If you have trouble, call the help desk at x3001.
Clear up any holds on your registration.
Read through and update the checksheet for your major. Fill it out and bring it to your appointment. If you haven't declared a major, pick any checksheet. Most of the requirements the first two years overlap.
Check your curriculum audit. It's available through MyDusis. There is a link from the student menu to "Degree Audit." The audit will show what requirements you've completed and what you still need to complete.
Check the Fall 2018 schedule, available on BlueView.
Read the course descriptions in the online catalog to check prerequisites for courses you're interested in.
If you're following the Drake Curriculum (rather than Honors track), look up the Areas of Inquiry course lists.
Bring a rough schedule to your adviser meeting. List specific classes and alternatives.
Questions? Contact your adviser or Mallory Quinn (mallory.quinn@drake.edu) or Mer. 119.
Students invited to marketing conference
Catch Des Moines is putting together a marketing conference, Market515, on Wednesday, April 18. It's a great learning and networking experience!
Drake University is a partner for the event. Registration for students is $25 and for the general public is $50. It includes light breakfast, lunch and happy hour. For details on the day's program, see:
Web page: https://www.catchdesmoines.com/market515/
Facebook: https://www.facebook.com/events/151365908864703/
Study in Chile this summer
Universidad de los Andes in Santiago, Chile, a Drake partner institution, offers two summer programs in English. "GO Chilean Economy" and "GO Spanish" are offered at UAndes in July 2018:
"GO Chilean Economy" is a four-credit, three-week, intensive and interactive program with classes and activities that offer insight into Chilean economy and culture. It includes sessions of Spanish as a foreign language. Dates: July 9-27. (Application deadline: May 2)
"GO Spanish" is a three-credit, four-week, intensive Spanish as a foreign language and culture course. Dates: July 2-27  (Application deadline: May 2)
As a partner institution, Drake students receive a special tuition price: $550 for "GO Economy" and $1,100 for "GO Spanish." Expenses would also include travel to Santiago, $750-820 for off-campus housing, and money for food and incidentals. No student visa is required. For more information, contact SJMC Dean Kathleen Richardson (kathleen.richardson@drake.edu).
Watch a video with an overview of UAndes and the short-term programs: https://www.youtube.com/watch?v=tZPEeof0yng
Annual student awards reception April 19
The annual SJMC student awards reception, which recognizes student scholarships and achievements, will be Thursday, April 19, 4-6 p.m. in Levitt Hall of Old Main.
Weekly academic help offered
Academic Achievement Seminars will be held every Wednesday, Feb. 28-May 2, 6-7 p.m. in Cowles Library, 201. Get individualized attention to help build the skills for academic success.
Have a news item for the Memo?
The SJMC Monday Memo is a weekly newsletter to keep members of the wider SJMC community updated on School news, achievements, events and opportunities. If you have an item for the Memo, please send it to Dean Kathleen Richardson (kathleen.richardson@drake.edu) or SJMC webmaster and multimedia professor Chris Snider (christopher.snider@drake.edu). SJMC alums and other professionals can also contact Chris to have the Memo delivered via weekly email.
The School of Journalism and Mass Communication strives to create a community of scholars that represents the complexity of the human experience in regards to race, ethnicity, sex, sexual orientation, economic status, gender identification, religion, age and physical abilities. We are committed to creating a welcoming and supportive environment for all our faculty, staff, students and visitors, and celebrating our differences through the lens of the First Amendment value of freedom of expression.