Drake University Law School is pleased to announce this year's alumni award winners. Karen Shaff, LW'79, was named the 2018 Alumna of the Year; Kristina Stanger, LW'05, was named the 2018 Recent Alumna of the Year; and Robert Oberbillig, LA'56, LW'58, received the Distinguished Public Service Award.
The award winners will be honored at Drake Law School's 81st Annual Supreme Court Celebration Banquet and Awards Ceremony on March 24 in Parent's Hall, Olmsted Center. A reception starts at 6 p.m.; dinner is served at 7 p.m.
To RSVP or find more information, visit the Supreme Court Celebration webpage.
ALUMNA OF THE YEAR
Karen Shaff, LW'79
The Alumni of the Year award recognizes Drake Law alumni who have demonstrated outstanding service to the legal profession, the community, and the Law School.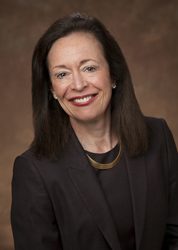 Karen Shaff is the executive vice president, general counsel, and secretary of Principal Financial Group, where she is responsible for the law, compliance, and government relations departments. She joined the Des Moines-based Fortune 500 company in 1982 as an attorney and rose up the corporate ladder. When she was appointed as executive vice president in 2004, Shaff became the highest-ranking female officer in the company.
Prior to working at Principal, Shaff practiced with the law firm of Austin and Gaudineer in Des Moines. She is a former board member and past president of the Association of Life Insurance Counsel and member of the Association of Corporate Counsel. She also served on the Iowa State Bar Association's Board of Governors and Committee on Professional Ethics and Conduct.
In addition, Shaff is a director of Sargasso Mutual Insurance Company, Ltd. and the GuideOne Insurance Companies, a trustee of Grinnell College, and chair of the Animal Rescue League of Iowa Advisory Council. She is a former chair of the boards of directors of the Science Center of Iowa and Home Opportunities Made Easy (HOME), Inc., which provides housing counseling, education, and case management to individuals and families.
Shaff has also volunteered time to several charitable organizations, including the United Way of Central Iowa and Iowa Legal Aid. In recognition of her accomplishments, she was named the Business Record's 2013 Woman of Influence.
Shaff is actively involved in Drake Law School. Along with her husband, Steve Jayne, LW'78, Shaff established a $1 million scholarship fund at the Law School. She was also instrumental in Principal's partnership with Drake's Law Opportunity Leadership Program, which provides internships, mentorship, and leadership training for five qualified Drake Law students from underrepresented groups.
RECENT ALUMNA OF THE YEAR
Kristina Stanger, LW'05
The Recent Alumni of the Year award recognizes Drake Law alumni who have graduated in the past 15 years, have seen a high level of professional success early in their careers, and have made an impact on the community through public service.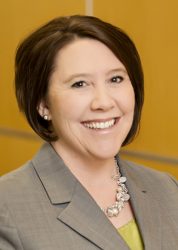 Kristina Stanger is a lieutenant colonel in the U.S. Army and partner at Nyemaster Goode PC in Des Moines, where she focuses on commercial litigation.
Since second grade, Stanger wanted to be a lawyer. At Central College, she worked three jobs and joined the Iowa National Guard to pursue her law school goals. Stanger attended Officer Candidate School and was commissioned as a Medical Service Corps Officer in the U.S. Army. After working as a legal secretary at Lane & Waterman LLP, she enrolled at Drake Law School in 2001, just a few weeks before the 9/11 attacks.
Halfway through her second year, Stanger received a call that she was being deployed for the initial assault into Iraq. She led an ambulance platoon of 30 soldiers in Mosul, Iraq, for 15 months before returning to the United States to pick up her legal coursework where she had left off. Stanger graduated from Drake Law School in 2005 with high honors and as a member of the Order of the Coif. As a student, she was involved with the Drake Law Review and moot court program.
Stanger is a member of the National Order of Barristers, national and local bar associations, American Bankruptcy Institute, and Commercial Real Estate Women (CREW) of Iowa. She is also active with lobbying and mentoring programs within the military organization. In addition to being the first and only female commander of the Iowa National Guard's Officer Candidate School, Stanger has served as a planner for the State Emergency and International Exercise and is now the Chief of Plans and Operations for the Iowa Army National Guard.
Stanger credits her husband—retired Sergeant First Class Doug Stanger—and their three children, extended family, and friends for her ability and passion to serve the United States while pursuing justice. She is a member of the St. Francis of Assisi parish and a Business Record "Forty Under 40" honoree.
DISTINGUISHED PUBLIC SERVICE AWARD
Robert Oberbillig, LA'56, LW'58
New this year, the Distinguished Public Service Award recognizes Drake Law alumni who have engaged in exemplary service to the community and demonstrated commitment to public service over the course of their careers.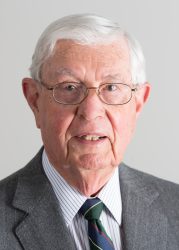 Robert Oberbillig has given back to the community for six decades. He began his career in private practice in Omaha, where he was involved in civil rights efforts. As a result of his passionate work on the issue of fair housing, Oberbillig was fired from the firm and asked to leave the church he and his wife attended.
He then moved to Waterloo, Iowa, where he served as director of the Black Hawk County Legal Aid Society—the first federally funded legal services program in Iowa. The organization received the first-ever award for outstanding legal service program with six or less attorneys by the Office of Legal Services.
In 1969, Oberbillig was hired as director of the Polk County Legal Aid Society, a position he held for 34 years. Under his leadership, the organization served up to 8,000 clients each year and established the Family Violence Center, Anawim Housing, Youth Law Center, and the first public defender program in Iowa.
In addition, Oberbillig has been involved in more than 50 state and federal cases, and he contributed to reforming and rewriting numerous Iowa codes and procedures. He was also a founding member of the Institute for Social and Economic Development (ISED) of Iowa, which was established to empower and assist welfare clients across the state.
Today, Oberbillig is Clinician in Residence and director of the Elder Law Clinic at Drake Law School. He continues to provide more than 100 hours of pro bono services every year, including legal services for families with individuals in hospice care. Oberbillig has received many accolades, including the American Bar Association Dorsey Award and the Iowa State Bar Association Rolland E. Grefe Pro Bono Publico Award. In 2013, he was inducted into the Iowa Legal Aid Hall of Fame.