Applications open for campus media leadership
Anyone interested in applying for a leadership position in a campus media organization for the 2018-19 academic year is encouraged to submit an application to the Board of Student Communications: faculty chair Jeff Inman (jeffrey.inman@drake.edu) and SJMC senator Jake Bullington (jacob.bullington@drake.edu). Available positions include president of Drake Broadcasting System, and editors-in-chief of the Times-Delphic, Drake Magazine, the Annual, Drake Political Review, DUIN and Periphery. Send a resume, cover letter and three to five work samples in one PDF. Applications are due Thursday, March 8 at 5 p.m. 
Learn more about J-Term classes
The annual J-Term Fair is today, Monday, March 5, 4:30-6:15 p.m. in Parents Hall. Learn more about 2019 J-Term here.
Urban Plains to launch this week
The senior capstone website Urban Plains is officially launching on Tuesday, March 6, by giving out Hurts Donuts doughnuts in the Olmsted Breezeway from 1-2:30 p.m. Here's the link to the Facebook event.
Check out new student online literary journal
A new literary journal called AGORA has debuted, staffed by English professor Megan Brown's  senior capstone students (including many SJMC double majors). Submissions from undergraduates and recent college grads welcome! Bookmark the link — content will be updated frequently.
DBS Relays Executive Board
Do you want to be a part of the team that puts on the Relays broadcasts? Fill out the Relays Executive Board application by 8 p.m. Thursday, March 8. Email tess.julien@drake.edu with any questions.
Ethics symposium to feature prominent journalists
The 2018 Baum Symposium on Ethics and the Professions will be held Thursday, March 22, through Saturday, March 24 on campus. The topic of this year's symposium is "A Moral Political Vision in a Polarized Nation." It will feature a variety of guest speakers, prominent panelists and workshop leaders from a variety of professions, including many journalists. The kick-off keynote speaker is New York Times columnist Charles Blow. The symposium events are free and open to the public, but please register here: https://baumsymposium4ethics.wp.drake.edu/register-for-the-symposium/.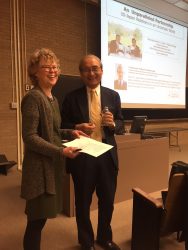 Japanese lecturer visits SJMC
SJMC Dean Kathleen Richardson introduced Dr. Fumiaki Kubo prior to his lecture last week in Meredith Hall. Professor Kubo, a leading authority on U.S.-Japanese relations, spoke to a large audience about the U.S.-Japan alliance, the effect of the Trump administration's "American First" policies, and the tense state of affairs in Asia. Professor Kubo's visit was sponsored by the SJMC, the politics department, and the Consulate-General of Japan in Chicago.
Weekly academic help scheduled
Academic Achievement Seminars will be held every Wednesday, Feb. 28-May 2, 6-7 p.m. in Cowles Library, 201. Get individualized attention to help build the skills for academic success.
Have a news item for the Memo?
The SJMC Monday Memo is a weekly newsletter to keep members of the wider SJMC community updated on School news, achievements, events and opportunities. If you have an item for the Memo, please send it to Dean Kathleen Richardson (kathleen.richardson@drake.edu) or SJMC webmaster and multimedia professor Chris Snider (christopher.snider@drake.edu). SJMC alums and other professionals can also contact Chris to have the Memo delivered via weekly email.
The School of Journalism and Mass Communication strives to create a community of scholars that represents the complexity of the human experience in regards to race, ethnicity, sex, sexual orientation, economic status, gender identification, religion, age and physical abilities. We are committed to creating a welcoming and supportive environment for all our faculty, staff, students and visitors, and celebrating our differences through the lens of the First Amendment value of freedom of expression.