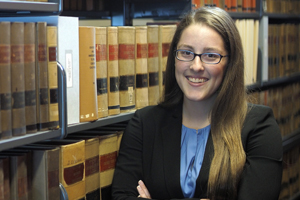 The National Jurist has selected Erin Romar, LW'18, to this year's top 20 Law Students of the Year list.
The annual list honors law students across the country who contributed the most to their law schools and communities. Romar was one of five students selected to represent the Midwest region.
According to the publication, these students "push themselves to help better their law schools, to help better their communities and to help those in need."
As a law student, Romar had a direct hand in affecting change in two statewide matters.
In 2016, Romar learned that Iowa had no laws against revenge porn, which is the act of posting sexually explicit content of an individual on the internet without that person's consent and with intent to harm.
After conducting research and talking with victims, she worked with Drake Law faculty and state legislators to draft and advocate for a bill. In May 2017, Gov. Terry Branstad signed the bill into law, making revenge porn a crime in Iowa punishable by jail time and fines.
Romar also advocated for the adoption of a new Iowa Juvenile Court Rule banning the routine shackling of children during court proceedings.
Under the guidance of Professor Brent Pattison, director of the Middleton Center for Children's Rights, she conducted research on the issue and presented her findings at two Continuing Legal Education events.
In October 2017, Iowa Supreme Court Chief Justice Mark Cady issued an order prohibiting the routine use of shackles on juveniles. Iowa is the 30th state to ban or limit the practice.
"I am truly honored to be chosen as a top 20 law student," Romar said. "I read the bios of all the law students selected, and I'm just so honored to be featured among these other amazing students across the U.S."
"We are incredibly proud of Erin," said Jerry Anderson, dean of Drake Law School. "She is an outstanding example of Drake Law School's mission to prepare students to promote justice, serve as leaders, and respond to the call of public service. Her actions impacted people across the entire state of Iowa—and she did these things before earning her law degree."
Romar graduated in December and was hired at the Harrison & Dietz-Kilen, PLC law firm in Des Moines.
She is profiled in the Spring 2018 issue of The National Jurist. Read the issue online.