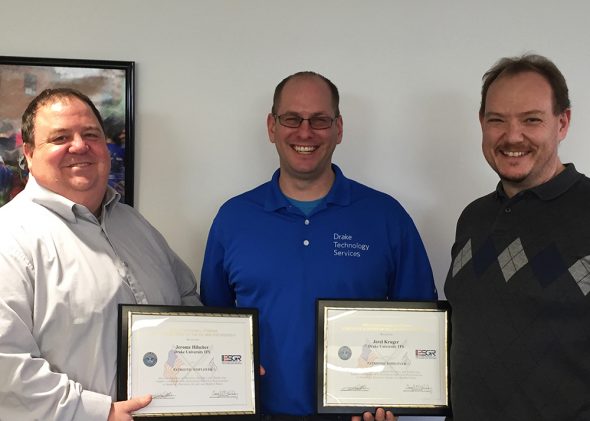 Two members of the Drake University Information Technology Services department were honored for providing extraordinary support to a colleague who serves in the Iowa National Guard and Reserve.
Jerome Hilscher, associate chief information technology officer for campus relations, and Jerel Krueger, assistant director of campus technicians, received the Patriot Award from the Iowa Committee for Employer Support of the Guard and Reserve (ESGR).
Campus Technician Greg Christie, a staff sergeant with the Iowa Army National Guard's 1133rd Transportation Company in Mason City, Iowa, nominated Hilscher and Krueger for the award.
Christie has been an Iowa Army National Guard member for nearly 17 years and joined the Drake staff in November 2015. During Christie's time at Drake, he said Hilscher and Krueger have accommodated his needs a guard member and ensured consistent quality of service for the Drake community.
Hilscher recognizes the importance of military service and ensures appropriate staff support during Christie's drill weekends.
"Thanks to [Hilscher], I look forward to going to drill and coming back to work on Mondays," Christie said.
Krueger assists with service tickets when Christie has to attend training sessions or drill weekends, and "makes sure that all customers…get the best service that they can."
"[Krueger] makes coming to work less stressful for me and my family during heavy training periods," Christie added.
ESGR, a Department of Defense agency, was established in 1972 to promote cooperation and understanding between reserve members and their employers. ESGR is supported by a network of more than 4,800 volunteers in 54 committees located across all 50 states. They provide education, consultation, and—if necessary—mediation for employers of Guard and Reserve employees.
Drake University recently has also been recognized at state and national levels for a strong commitment to students who have served in the military.
U.S. News and World Report's 2018 ranking of Best Colleges for Veterans placed Drake No. 2 among private universities in the Midwest.
In January, the State of Iowa formally included Drake as a member of its Home Base Iowa Certified Higher Academic Military Partner (CHAMPs) program, after Drake demonstrated that it met stringent requirements in three major areas that help U.S. military veterans: (i) transition to an institution of higher education, (ii) access on-campus support resources, and (iii) obtain scholarships and veterans benefits.