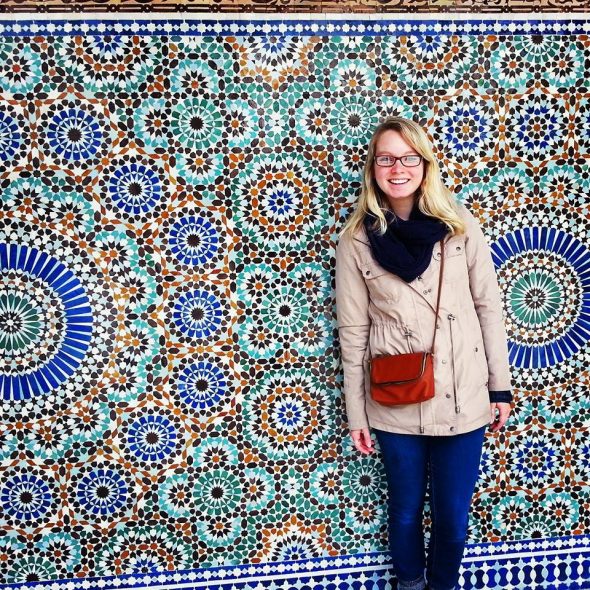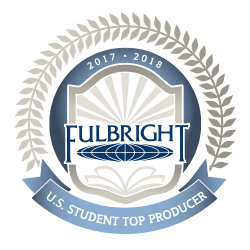 Drake University is proud to once again be recognized among the nation's top producers of Fulbright Scholars and Students.
The U.S. Department of State's Bureau of Educational and Cultural Affairs today announced that Drake is included on the list of U.S. colleges and universities that produced the most 2017-2018 Fulbright U.S. Students. Drake has consistently been a top producer of Fulbright Scholars among schools of its size and type, most recently earning the distinction in 2015-2016.
The Fulbright Program is the U.S. government's flagship international educational exchange program. The top institutions are highlighted annually in The Chronicle of Higher Education.
"This recognition signifies the extraordinary level of leadership, commitment, and engagement of Drake students, and demonstrates the power of Drake's commitment to responsible global citizenship," said Provost Sue Mattison. "It is an incredible honor for the University."
Four Drake alumni received Fulbright awards for academic year 2017-2018. Nathan Jacobson, Elena Dietz, and Kelly Leatherman were offered Fulbright English Teaching Assistant roles, teaching English as a second language in Bulgaria, Indonesia, and Malaysia, respectively. Ankita Dhussa was selected for a year of research and study in India. Only eight universities in Drake's category had more Fulbright student recipients.
The Fulbright application process at Drake is facilitated by Associate Professor of History Karen Leroux, the University' Fulbright advisor. Faculty members provide extensive, ongoing support to students as they put months of work into their applications.
"The success of this past year's Fulbright applicants is truly remarkable," Leroux said. "Twelve Drake students submitted applications; five were selected as semi-finalists, and of those five semi-finalists, four received awards. That's an amazing success rate considering the high caliber of the Fulbright competition nationwide. Drake students tend to have so many opportunities to become aware, engaged, and passionate about local and global issues—in the classroom and beyond it, too. That deep engagement, along with strong academics, enables our students to write very competitive applications for international scholarships like Fulbright."
In total, Drake has had 34 student Fulbright recipients since 2000-2001. Additionally, Drake senior Meghan Walters of West Bend, Wis., has been named a Fulbright semi-finalist for the 2018-2019 program.
Since its inception in 1946, the Fulbright Program has provided more than 380,000 participants—chosen for their academic merit and leadership potential — with the opportunity to exchange ideas and contribute to finding solutions to shared international concerns. Over 1,900 U.S. students, artists and young professionals in more than 100 different fields of study are offered Fulbright Program grants to study, teach English, and conduct research abroad each year. The Fulbright U.S. Student Program operates in over 140 countries throughout the world.
The Fulbright U.S. Student Program is a program of the U.S. Department of State, funded by an annual appropriation from the U.S. Congress to the Bureau of Educational and Cultural Affairs, and supported in its implementation by the Institute of International Education.
The Fulbright Program also awards grants to U.S. scholars, teachers and faculty to conduct research and teach overseas. In addition, some 4,000 foreign Fulbright students and scholars come to the United States annually to study, lecture, conduct research and teach foreign languages.
For more information about the Fulbright Program, visit http://eca.state.gov/fulbright.