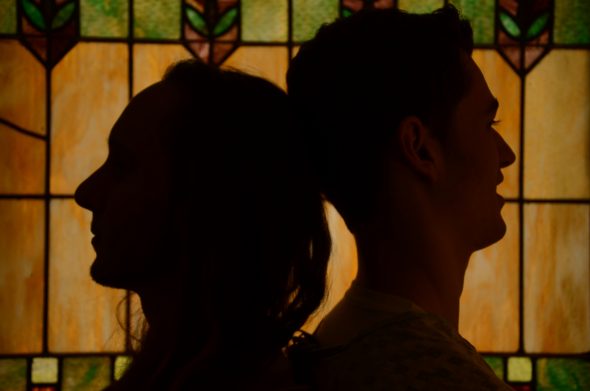 Drake University Theatre's upcoming repertory showcase features two full-length, mainstage productions that vary significantly in style and message.
The showcase begins Thursday, Feb. 22, and runs through Sunday, Feb. 25, in the William S.E. Coleman Studio Theatre in the Harmon Fine Arts Center, 2505 Carpenter Ave, with shows playing on alternating days.
Almost Blue is scheduled for Thursday, Feb. 22 and Saturday, Feb. 24 at 7:30 p.m., and Sunday, Feb. 25th at 2 p.m. The production is directed by guest director Josh Vishnapuu, who has starred in shows at The Des Moines Community Playhouse and directed/produced shows with his theatre company, Open Door Rep.

Next Fall is set for Friday, Feb. 23 and Sunday, Feb. 25 at 7:30 p.m., and Saturday, Feb. 24 at 2 p.m. The production is helmed by Drake senior Colin Meyer, a Bachelor of Fine Arts in Directing major, who is making his full-length, mainstage directing debut.
Admission is $9 for adults, $7 for senior citizens, and $4 with a Drake ID. Tickets are available at the Fine Arts Box Office or online. Please go to http://drake.edu/fineartsboxoffice/ or call 515-271-3841 for more information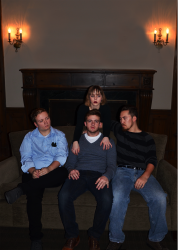 Almost Blue is a stage noir that follows the story of Phil—an alcoholic, ex-con trying to find freedom in the bottom of a bottle. His elderly, erotica-writing neighbor is a bit of a caretaker and his only companion—until a visit from a mysterious woman turns his life upside down. She turns out to be the ex-wife of Phil's violent former cell mate, who is out for blood. All of them want something from Phil, and all he wants is to do the right thing, for once.
"It is a different process for me because it's a different style than I'm used to [directing]," Visnapuu said. "Noir is a pretty rare genre for theatre so that's been a challenge."
"I try to make [the directing process] very collaborative," Visnapuu said. "I want this to be a community process where everyone is part of the creative team. It really is a mutual discovery of the characters. I want them to explore."
Jackson Kealy, a junior BFA musical theatre major who plays Blue in the show, says the noir genre gives the audience a kind of theatre experience they may not be used to.
"It's a noir thriller type of show in which you watch the same thing happen over and over again, but it gets a little weirder each time," Kealy said. "I hope the audience takes away a sense of wonder and viewing pleasure. It's not a show that's going to change the audience's view on the world, but rather it offers a chance to get caught up in a show that is live and vibrant."
"The less you know going in," Kealy added, "the more you'll enjoy it."
The second show in the showcase Next Fall by Geoffry Nauffts, follows the characters of Adam, an atheist, and Luke, a Christian, as they try to find common ground in their relationship. Next Fall debates complex issues about hospital visitation rights, faith in the LGBT community, and the afterlife. When tragedy strikes the couple, their faith and relationships are tested.
In his first experience directing a full-length mainstage production, Drake senior Colin Meyer said, "I learned a lot about collaboration. I have an amazing group of actors that really understand that I'm still learning as a director. The entire feel of the show is just very collaborative and I'm so grateful that I got to learn how to focus on that."
Next Fall's diverse characters and story have something to offer for everyone, said senior Shelby Jensen, a bachelor of arts in theatre and public relations double-major who plays Arlene in the show.
"It is really well written," Jensen said. "It's witty, the characters are people that you like, people that you might know. It's an emotional rollercoaster and I think you might walk away either questioning your own beliefs or solidified in them, and I think it can be different for everyone."
First-year BFA musical theatre major Brandon Shreve plays Adam in the show. While the production deals with tragedy and portrays many perspectives on controversial issues, Shreve wants the audience to take away a message of hope and connection.
"It's cliché, but love is love," Shreve said. "And regardless of what our beliefs are, what may hinder us, or control how we live, at the end of the day all we have is love and that's all that we can connect with each other through."