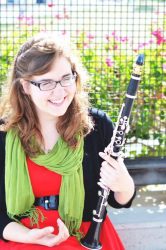 Drake University will showcase the musical talents of one of its young alumni with a free public concert this month.
Dana Sloter, who earned a Bachelor of Music in Clarinet Performance from Drake in 2013, will deliver a recital at 7:30 p.m. Monday, February 26, in Old Main's Sheslow Auditorium. Sloter's performance is part of the Department of Music's Alumni Recital Series, which promotes the accomplishments of Drake's successful music alumni.
"I'm excited to do a recital here at Drake because I did a lot of growing up (musically and personally) here when I was a student," Sloter said. "I'm very lucky to be working at a place that holds so many memories for me."
Following graduation, Sloter continued her education at Arizona State University, where she received a Master of Music in Clarinet Performance in 2015. During her time at ASU, Sloter was a semi-finalist in the International Clarinet Association's 2014 Young Artist Competition, as well as a finalist in the 2014 ASU Concert of Soloists competition. She has served as music director and pit musician for theater productions in Des Moines, Peoria, and Phoenix, and currently works as a teaching artist at Drake, where she guides the next generation of clarinetists.
For the recital, the Peoria, Ill. native will perform pieces by Philippe Gaubert, Johannes Brahms, as well as Samuel Adler, accompanied by Teaching Associate Cynthia Giunta throughout the concert. She will close the recital with "Circusmuziek" by Ton ter Doest. The last piece features other Drake music faculty, including Teaching Associate Jennifer Wohlenhaus-Bloomberg, Professor and Department Chair Clarence Padilla, Professor James Romain and Adjunct Instructor Timothy Gale.