Drake University Pharmacy and Health Sciences students were participants and award winners at the DMU Research Symposium, hosted annually by Des Moines University. The Symposium recognizes the research efforts of Des Moines area medical and scientific communities.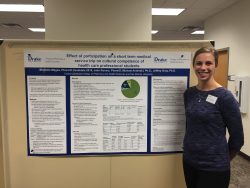 Michelle Mages, P4, won Most Outstanding Graduate Poster Presentation (Education) for her entry, Effect of participation on a short term medical service trip on cultural competence of health care professional students. Faculty co-authors were Dr. John Rovers and Dr. Michael Andreski, with additional co-author Dr. Jeffrey Gray.
Kieran Severa, Senior Health Sciences student, won Best Undergraduate Poster (Education) for his display, Analysis of Publications and Funding for a Small Health Sciences University over a Three Year Period. Co-authors were Mollie Lyon and Jeffery Gray.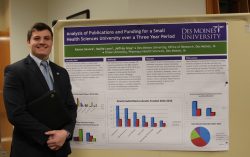 Neil Febel, Senior Health Sciences student, is completing his senior capstone at DMU with mentor Dr. Marie Nguyen. Neil won the Best Undergraduate Poster Presentation Award (Biomedical Sciences) for his abstract and poster presentation, Herpes Simplex Virus 1 Inhibition by Co-Administration of Acyclovir and the Telomerase Inhibitor MST-312.
Also presenting was Andre Do, P3, Fabrication of 3D Printed Suppositories for Individualized Drug Delivery: Evaluating Potential Polymers and Software. His faculty co-author was Dr. Abebe E. Mengesha.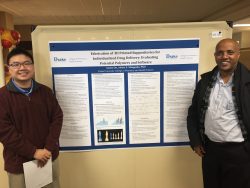 In addition, Anna Burns, P3, presented her work, Activation of Novel Prodrugs to Combat Herpes Virus Infections.
The DMU Research Symposium provides researches a forum for collaboration around ideas and hypotheses. The awards focused on researchers who have had an impact on advancing knowledge in science, health, education, wellness or other field of study.