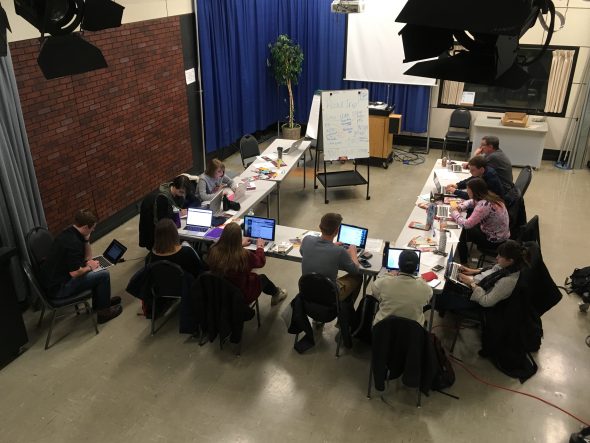 The Des Moines Community Playhouse is taking the show on the road this summer, and Drake students are helping the nonprofit community theater group to spread the word.
The Playhouse will host performances and educational programming off-site while undertaking major renovations on its historic building. The Playhouse's main stage has been in the same location since 1953, so it's no small task to ensure their patrons are aware of this break from routine.
"We were getting kind of nervous—when we move, will the audience follow us?" said Des Moines Playhouse Executive Director David Kilpatrick. "Part of our mission is to educate and engage with the community, so it was a natural fit to partner with Drake University students on a communications strategy."
In a three-week January Term course called "Agency One-Nine-Nine," Drake students operated as a digital media production agency, with the Des Moines Playhouse as their client. Ten Drake juniors and seniors, majoring in fields including advertising, digital media production, and graphic design, led a full digital media campaign from concept to completion.
The students gained experience working for a real-world client, while the Playhouse was able to supplement the efforts of its marketing team and exercise its educational mission.
"There is no better way to describe this project than a real-life job—a completely immersive experience," said Mitch Kedzior, a junior digital production major with a minor in musical theater. "It was the greatest experience I could have had in a class."
Students met daily, working closely together and with the Playhouse staff to prepare social media and web content. The cornerstone of their campaign concept was a series of "Road Trip Karaoke"-style promotional videos, featuring Playhouse staff members and local radio personality Maxwell Schaeffer.
"The video was difficult to create because it was a multi-camera shoot that involved a lot of coordination between [students] and the Des Moines Playhouse, and the editing process was long and strenuous," said Olivia Decelles, a junior digital media production major. "But I loved the entire agency experience. The Playhouse was a fun and enthusiastic client, and I learned what it's like to work with designers, copy editors, and videographers."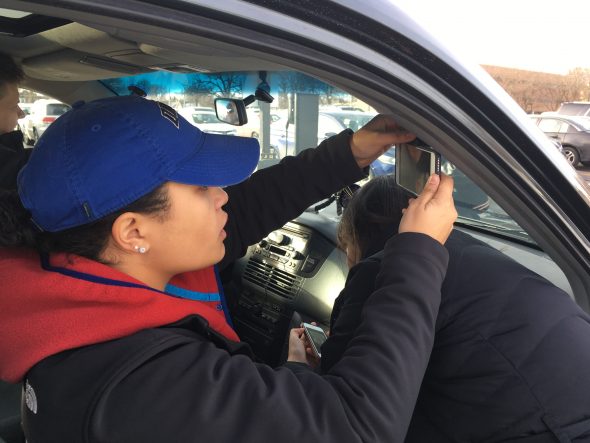 Ultimately, the Playhouse received creative materials it can use to engage audiences and enhance a reputation gleaned over the past century, Drake students gained skills that will benefit them throughout their careers.
"The way the course is structured allows us students to really take charge, communicating with the client, making creative decisions, and explore new technologies," said Kayla Ferris, senior advertising and graphic design major. "This course really increased my love of collaboration with other creatives, and I'll definitely be bringing that with me to the work place."