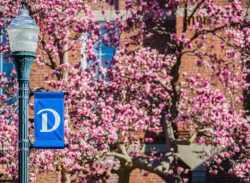 The University offers new scholarship, resources for military veterans
This month, the State of Iowa formally recognized Drake as a member of its Home Base Iowa Certified Higher Academic Military Partner (CHAMPs) program, which helps promote Iowa as an attractive place for veterans and their family members who choose to pursue their higher education. To become a member, Drake demonstrated that it met stringent requirements in three major areas that help U.S. military veterans: (i) transition to an institution of higher education, (ii) access on-campus support resources, and (iii) obtain scholarships and veterans benefits.
As part of the CHAMPS certification, Drake University recently expanded financial aid opportunities and educational resources for military veterans and their families. A new scholarship, dedicated study space, and access to academic and career advisors are among Drake's resources for student-veterans.
Beginning in fall 2018, service members and their dependents who are pursuing a bachelor's degree at Drake may apply for a renewable scholarship of $3,000 per academic year. The University also partners with the U.S. Department of Veterans Affairs on the Yellow Ribbon Program; the partnership covers 100 percent of tuition and mandatory fees for qualifying veterans.
Student-veterans have access to dedicated study space in a University-owned facility that is used for Drake ROTC programming and other veterans' activities.
In addition to the CHAMPS recognition, U.S. News and World Report's 2018 ranking of Best Colleges for Veterans placed Drake No. 2 among private universities in the Midwest.