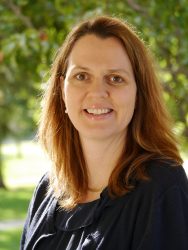 Drake University Provost Sue Mattison announced today that Gesine Gerhard, PhD, has been named dean of the College of Arts and Sciences, effective July 1, 2018. Gerhard has demonstrated strong leadership skills, clear vision, and passionate advocacy for liberal arts education during a career as an administrator, scholar, and teacher. She has served since 2012 as associate dean of the College of the Pacific, the largest and oldest academic unit of the University of the Pacific in Stockton, Calif., where she also served as the University's director of general education.
"In addition to expertise managing operations of her college, Gerhard brings solid experience as a collaborative, transparent decision-maker," said Provost Mattison. "I'm confident in her abilities to build relationships around the vision of liberal arts and sciences that will enable recruitment, retention, and advancement work."
At the University of the Pacific, Gerhard helped to shape strategic planning at the senior administration level and forged a new writing support program. She also worked with faculty members to develop two new curricular programs, one of which provides a gateway to the liberal arts for all students, and the other which promotes participation in the natural sciences among non-science majors.
"I am thrilled to be joining Drake as dean of the College of Arts and Sciences," Gerhard said. "Drake's promise of a student-centered liberal arts education and its mission to integrate professional education with the liberal arts and sciences are essential to prepare today's students to be leaders and citizens of the world we live in. I am impressed by the faculty and staff's commitment to create an exceptional learning environment for students, and I am inspired by their ambition to transform lives. I look forward to working with all disciplines within the College to articulate and implement a vision for the liberal arts and sciences."
Gerhard joined the faculty of University of the Pacific in 1999, earning the title of full professor in the department of history, and served as director of the gender studies program from 2007–2012. She studied at the University of Bologna from 1992–1993 before earning her master of arts in history at the Technical University of Berlin in 1994. She earned a doctorate in modern German history from the University of Iowa in 2000. Her research focuses on agricultural history and food policy during World War II and the Nazi period; she has delivered more than 50 guest lectures, public talks, and conference workshops. Her awards from the University of the Pacific include the Ebhardt Teacher/Scholar Award in 2007 and the University Priorities Award in 2007 and 2009.
"To accomplish our goals, we have to strongly articulate our vision, and we have to be clear and transparent about our goals and our purpose," Gerhard said. "We develop minds; we transform, not just train; we educate responsible and global leaders; we build the foundation for meaningful lives; and we prepare for jobs. I believe Drake is well positioned to execute and live this mission. I can't tell you how excited I am to be part of this next phase of the College of Arts and Sciences at Drake."
Gerhard succeeds Joe Lenz, who on June 30, 2018, steps out of his role as dean and into a sabbatical. Lenz has served Drake for 36 years; he joined faculty in 1982, serving as chair of the English department from 1992–2007. He was named interim dean of the College of Arts and Sciences in 2007 and has served as dean of the college since 2009, except for a one-year stint as Drake's interim provost during the 2015–2016 academic year.
"I am very grateful for the multiple opportunities provided to me by Drake, and for the generous support, encouragement, and cooperation of my colleagues," Lenz said. "But, it is time for new energy and new vision. As we all know and as she will discover, Gesine is joining a vibrant and collegial community. I am sure she will be given a warm welcome, and I look forward to working with her to make her transition as smooth as possible."