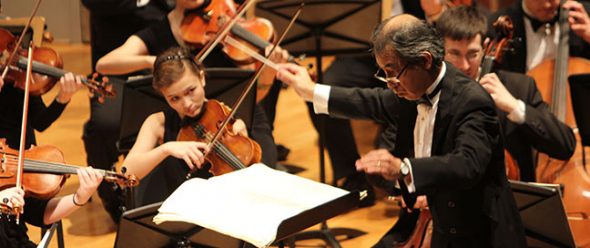 Associate Professor of Music Akira Mori, director of orchestral studies, received the Immigrant Entrepreneur Leadership Award during the 10th annual Immigrant Entrepreneurs Summit (IES) in Des Moines on November 18.
The Immigrant Leadership Award is awarded to a first-generation immigrant who has demonstrated leadership and an entrepreneurial spirit in his/her professional and family life and on behalf of the immigrant and larger community.
Summit organizers honored Mori "for his commitment to infuse high expectations of rigor, respect, and care in his relationships with musicians as a teacher, mentor and conductor, along with his distinctive ability to both challenge and support their aspirations and performances."
Born and raised in Japan and educated in the United States, Mori has professionally conducted in countries such as Japan, the U.S., Russia, Ukraine, Moldova, and Argentina, and has taught at multiple universities across the United States and Asia including Indiana University, University of Minnesota, Louisiana State University and Tokyo College of Music. He has taught on the faculty at Drake University since 2008.
"What makes Akira great, what makes him really special, is that he has so many different influences in his own background," said Kenneth Freed, violist with the Minnesota Orchestra. "Akira is a beautiful musician, he's a very demanding teacher, but in a very gentle way, and I would say most importantly he made me love the study and craft of conducting … Akira makes [Drake students] want to do better, and I believe the rest of the faculty wants to do better—wants to recruit more talented students."
Mori first became aware of classical music when he was 10 years old and saw a television commercial advertising a visiting European orchestra. He has received numerous honors for his musicianship, including the Hideo Saito Award from Tokyo International Music Competition Conducting Contest, and the 3rd Prize and Best Concerto Accompanying Award from Dinu Niculescu International Competition in Romania.
"I am so grateful for the opportunity that America provided to me," Mori said at the Summit. "In spite of my late introduction to music, I was able to come to America and still become a musical conductor because of the opportunities I was given here."
"Music has the power to change and improve lives," he added. "The first performance of Beethoven's Ninth Symphony in Japan was performed and sung by German prisoners after World War I. These former enemies and POWs of Japan performed the symphony outside of prison camp walls for a Japanese audience after the war ended."
Mori closed the evening by conducting Drake's String Ensemble in a performance of one movement in a piece by Antonin Leopold Dvorak.
The mission of IES is to bring businesses of diverse backgrounds together to share, learn and celebrate the immigrant entrepreneurship experience and its contribution to the overall community. The 10th Annual summit featured the success stories of immigrant entrepreneurs, and business owners who shared ideas for business growth and their keys to success.