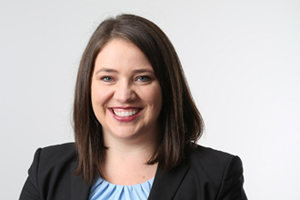 Natalie Banta joined Drake Law School this fall as an associate professor of law, teaching Wills and Trusts, Property, and Federal Income Tax courses.
She earned her BS and JD at Brigham Young University, where she served as editor-in-chief of the Brigham Young University Law Review. Before entering academia, Banta worked as a judicial clerk for The Hon. Jay S. Bybee of the United States Court of Appeals for the Ninth Circuit and as an associate at Covington & Burling LLP in Washington, D.C.
Q: What are your primary research areas?
Banta: My primary research interests are in the area of succession and posthumous property rights, specifically relating to digital assets. I am particularly interested in the future of American succession law, and how our property system will—or should—adapt to the changing nature of property in the digital age.
I'm currently working on an article that explores minors' testamentary capacity relating to digital assets. These ideas have been inspired by my teaching, as well as my personal interests in identity, legacy, and historical preservation. My most recent article was "Property Interests in Digital Assets: The Rise of Digital Feudalism" in the Cardozo Law Review (2017).
Q: What attracted you to Drake Law School?
Banta: I wanted to teach at an institution that valued all aspects of a legal education, where students not only passed the bar, but obtained employment in meaningful careers. Drake has been around for a long time, and I admire the tradition of excellence that the Law School has long extolled. I saw that the faculty was truly committed to the students, that the students were eager to learn, and that Des Moines was a wonderful place to live, practice law, and make a difference. I'm happy to be a part of it all.
Q: You have (almost) one semester at Drake under your belt. What is your impression of the Law School so far?
Banta: The Law School has lived up to all of my expectations I formed in the interview process. The faculty and students are collegial and welcoming. The faculty is impressive and continues to push forward positive changes in the law and promote legal scholarship. The students are bright, and the alumni are engaged.
When we had a ribbon-cutting event for the new Drake Law Review suite, I was touched by an alumnus' tribute to many of the faculty members that taught him years ago and still teach at the Law School today. There is a dedication and commitment to students that I haven't seen anywhere else.
Q: What are you excited about next semester?
Banta: I'm eager to meet half of the 1Ls in my Property section next semester. Students in their first year of law school bring an exuberance to the study of law that is contagious. I love being in the classroom and meeting such smart and devoted students.
Q: What do you enjoy doing in your free time?
Banta: I have really enjoyed becoming more familiar with Des Moines this semester. I spend my free time browsing at Beaverdale Books, catching shows at the Civic Center and Hoyt Sherman Place, and indulging in a Zombie Burger. Des Moines has so much to offer, and I'm excited to explore more of it.