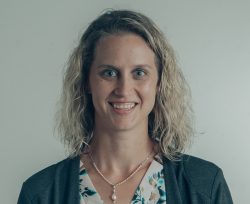 Jamie Pitlick, Associate Professor of Pharmacy Practice (Iowa Diabetes Endocrinology Center at Mercy Hospital and Clinics)
One of our own returns home! Dr. Jamie Pitlick earned her PharmD from Drake in 2008 and then completed a pharmacy practice residency at Mercy Family Medicine in association with the St. Louis College of Pharmacy. Before returning to Drake, she was previously Clinical Associate Professor at St. Louis College of Pharmacy. Jamie will be involved in teaching our diabetes content with a pharmacy practice site at Mercy Diabetes and Endocrinology Center.
What is your role at Drake and what drew you here?
I teach pharmacy students both in the classroom and at my clinical practice site, Iowa Diabetes and Endocrinology Center. I graduated with my pharmacy degree in 2008 from Drake University. After completing a residency, I took a faculty position at St. Louis College of Pharmacy. With that position, I was a PGY1 Program Director and got to interact with pharmacy students from all over the country during interview season. Over the years, I interviewed several Drake University student pharmacists looking for residencies. The professionalism and communication skills that I saw in those Drake student pharmacists were a constant reminder, year after year, of the quality of education that the students received and I wanted to be a part of it.
What excites you most about being here?
The privilege to teach Drake students.
You started at Drake this school year, what sticks out so far?
How welcoming the students, faculty and staff have been since I have started. It is also fun now teaching with professors who taught me in pharmacy school.
How would you describe your teaching style?
Interactive. I like to be able to adjust my teaching to the students' needs, based on how they are answering questions and talking during my teaching sessions. This means setting up a welcoming/friendly environment in the classroom/rotation that will foster this interaction.
If you had one piece of advice for current or prospective students, what would it be?
Get involved around campus. Join a couple of organizations and make connections. To this day, I continue to talk professionally and personally with the many friends/connections that I made while at pharmacy school at Drake. 
Have you taken a picture with a Bulldog yet?
Yes, but not since I became part of the faculty. My last picture with a Bulldog was when I was back for Relays with my family.
Favorite spot on campus?
Knapp Center cheering on Drake basketball teams.
What Drake tradition are you looking forward to experiencing?
I look forward to bringing my kids to Drake sporting events!