Current and prospective CPHS students gathered to assess, celebrate, and learn at Pharmacy & Health Sciences Day, Thursday, Nov. 9. Pharmacy & Health Sciences Day, an annual event that began in 1988 on Drake's campus, is planned and implemented by students for students. The annual event features a variety of topics that address current and future health care issues, along with recognizing award recipients.
Keynote Address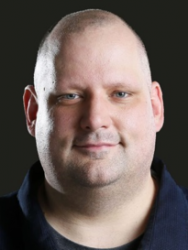 Take a Walk in My Shoes: The Patient Experience featured keynote speaker Daniel P. Finney, Drake University alumnus, who has documented his battles with mental health as the Des Moines Register's Metro Voice.
He told students that as a mental health patient, "You never get over the worst things that have happened to you in life, but you become more of accustom to that pain becoming a part of who you are."
He told the PHS audience, "I encourage all of you as future health care professionals to start looking at mental health as closely as you are looking at physical health because mental health is physical health."
State of the College
PHS Day also included the annual State of the College Address where Renae Chesnut, dean of the College of Pharmacy & Health Sciences, discussed the momentum the College is experiencing after the numerous transformations last year: the growth in the Occupational Therapy (OT) program, the hiring of the new Master of Science in Athletic Training Director, implementation of new pharmacy accreditation standards, the renovation of the previous University bookstore into the home of the OT program, and the completion of the Science Connector Building.
"Thanks to our recent transformations, we are now able to build momentum within all of our programs that help us to deliver on our mission — 'Preparing Today's Learners to be Tomorrow's Health Care Leaders'. We take pride in what we have done and we look forward to what we are going to do," remarked Dean Chesnut.
Future initiatives within the college include growing and promoting programs that are distinctive and provide students an opportunity to make a difference. Upcoming renovations within the College, and Fitch Hall specifically, include additional efficiency through a relocated administrative assistants' work space and the development of the Porter Clinical Skills Center, which will renovate the Davidson Laboratory to become a flexible learning space, and incorporate a simulation teaching and assessment laboratory space.
Also highlighting the morning session were the CPHS alumni and faculty awards presentations. 
Breakout Sessions in Olmsted
In the afternoon, students were able to learn more about topics and events featured at the exhibition hall and break-out sessions.
Serving Responsibly on Your Medical Mission/Service Trip
NAPLEX Review
Resume/CV Development Workshops
Universal Design
Student Development Theory 101
Novel Therapeutic Approaches to Treat Diabetic Kidney Disease
Burnout and Stress for the Healthcare Professional
Healthcare Ethics
Health Care Experiences in the Gender and Sexual Minority Population: The Need for Cultural Humility and Population Specific Training
Health Disparities in Gender and Sexual Minority Populations
The Pros and Cons of Health Reform