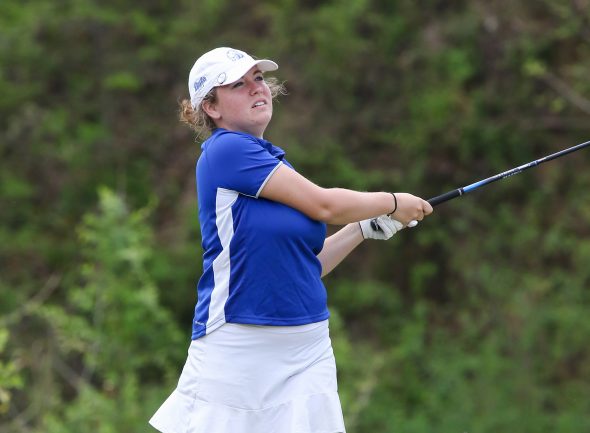 Drake University senior Madison Glennie, a high-performing member of the Drake Women's Golf team and a dedicated scholar with a perfect academic record, was a finalist for the highly prestigious Rhodes Scholarship this year.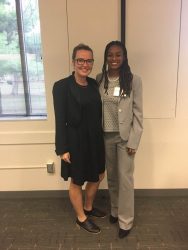 As one of 15 regional finalists, Glennie attended two days of interviews in Chicago on Friday, Nov. 17 and Saturday, Nov. 18.  Although she was not named among the nation's 32 scholars, her status as a finalist places her among a very exclusive group.
"Being a Rhodes finalist places Madison in a very select group of young people whom the Rhodes selection committee considered to have demonstrated exceptional intellect, character, and leadership," said Associate Professor Karen Leroux, chair of the history department and coordinator of post-graduate scholarships at Drake University. "She has made Drake very proud."
More than 2,500 students nationwide applied for endorsement from their colleges and schools, 866 received endorsement, and only 228 applicants were named as finalists.
"Just to be in the room with such remarkable and diverse candidates was an honor," said Glennie, a Clearwater, Florida native double-majoring in English and Law, Politics, and Society. "Hearing about their accomplishments and interests was a reminder of how much good work is being done by people my age. It made me really excited to see what they all were going to do with their lives."
Drake has only had four Rhodes Scholars in the University's history, most recently Drake basketball standout Lindsay Whorton in 2009. Glennie spoke with Whorton, a current member of Drake's Board of Trustees, while considering the opportunity to apply for the scholarship, and spoke with her again late in the application process.
"She told me to be my most authentic self, and to take it as an opportunity where I only had things to gain, nothing to lose," Glennie said. "That's the attitude I tried to have going into it."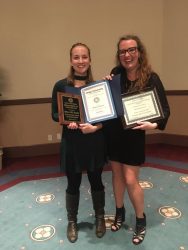 Glennie plans to attend law school after graduation and to begin a career working with survivors of gender violence. Her experiences at Drake have helped her pursue that goal through academic experience, co-curricular work, and internships.
"I've always wanted to help people and to pursue activism in some way, but in the past couple of years my passion has been to help victims of human trafficking and work to prevent it from happening," Glennie said. "It's a good battle to fight."
In summer 2016, Glennie completed an internship with the Justice Restoration Center in Florida. She worked with survivors of human trafficking, primarily on expungement cases to remove old charges put on victims' records while they were victims of trafficking.
While at Drake she has served on the steering committee for the Women's and Gender Studies program, helping to prepare a major public panel discussion on "The Human Trafficking Crisis: Strategies for Resistance."
Throughout her time at Drake, Glennie has expertly balanced academic achievement with excellence in sport, said Head Women's Golf Coach Rachael Pruett.
"She's the epitome of a Drake student-athlete," Pruett said. "She's a phenomenal student, and someone who consistently excels on the golf course as well. To be able to perform at such a high level in all areas of her life is a testament to her work ethic, her drive, and her willingness to make sacrifices in other areas of her life."
Early morning practices are often accompanied by late-night study sessions at the library. On long bus rides, Glennie is often sitting in the front seat next to Coach Pruett, buried in a stack of books.
"I've watched her read an entire book on a six-hour drive," Pruett said. "She's so passionate about her studies."
Glennie credits her father for introducing her to golf and her mother for nurturing her creativity and passion for volunteerism and advocacy.  She chose Drake because she wanted a university that maximized her academic and athletic experiences.
"That's been the reality of my Drake experience," she said. "It's been challenging in a very healthy and positive way to be a student-athlete here at Drake, and I've cherished the experience."
Drake's Rhodes Scholars are Lindsay Whorton in 2009; Robert B. Patrick in 1927; Norman Dunsbee Scott in 1916; and J.W. Woodrow in 1907. The internationally renowned scholarships were created in 1902 by the will of British philanthropist Cecil Rhodes.