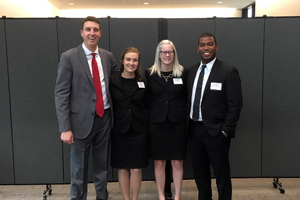 Drake University Law School's team won the regional American Bar Association (ABA) Law Student Division Arbitration Competition Nov. 10-11 to advance to the national finals.
Teams from Drake, American University Washington College of Law, Chapman University School of Law, Creighton University School of Law, and the University of Louisville Louis D. Brandeis School of Law competed in the regional round hosted at Drake Law School.
The Drake team of Olivia Brooks (2L), Jordan Garrison-Nickerson (3L), Rachael Irlbeck (3L), and Gabe Walsh (3L) defeated a team from Louisville to claim the regional title.
The team will compete in the national finals at the ABA Headquarters in Chicago on Jan. 19-20, 2018.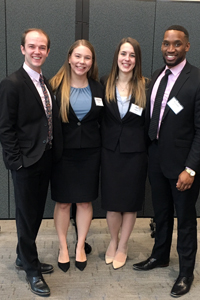 Drake's other team of Ayinde Ashford (2L), Kali Adams (3L), Katherine Dick (3L), and Josh Duden (2L) advanced to the semifinal round and finished in third place. The team may also compete in the national finals, depending on other regional results.
"I could not be prouder of the students that competed on Drake's behalf," said Ana Dixit, LW'16, one of the coaches for Drake's arbitration teams. "This tournament was not easy. Teams from all over the country competed, and every round showed just how talented and prepared Drake's teams were."
This marks the fourth year in a row Drake has advanced to the national finals.
"Drake has never been an easy team to beat. I'm looking forward to Chicago to see what is in store," Dixit said.
The ABA Law Student Division Arbitration Competition simulates a realistic arbitration hearing. Participants must prepare and present an arbitration case, including opening statements, witness examinations, exhibit introductions, evidentiary presentations, and summations.
Teams are evaluated by a panel of judges and scored based on the quality of their presentations.
Drake's arbitration teams are coached by Dixit, La'Cee Groekten, AS '11, LW '14, LW '15, and Ronald Forsell, LW'15.