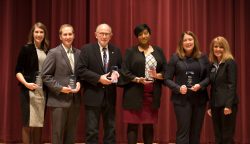 Drake University's College of Pharmacy and Health Sciences honored five outstanding alumni during its annual Pharmacy and Health Sciences Day, held Thursday, Nov. 9 in Sheslow Auditorium.
Drake alumni Cornetta Levi PH'07 and Natalie Schmitz PH'14 received the college's Young Alumni Achievement Awards, issued each year to alumni who graduated within the past 10 years. Crystal (Kemp) Lennartz PH'04, Frank Cable PH'65, and Luke Freml B.S.P.S.'04, received the Alumni Achievement Award.
"Our 2017-18 honorees are role models for the college's values of professionalism, collaboration, collegiality, innovation, and entrepreneurship," said Renae Chesnut, dean of the college of pharmacy and health sciences. "Their dedication to their communities, professional accomplishments, and commitment to our students is inspiring."
Cornetta Levi, PH'07 — Young Alumni Achievement Award
Cornetta Levi earned her Doctor of Pharmacy from Drake in 2007. She is currently a Walgreens Healthcare Supervisor, where she oversees the operations of Walgreens' Pharmacies across the Chicagoland Area. She is an advocate for comprehensive healthcare services, especially in the underserved Chicago urban communities characterized by a high demographic of diabetic, cardiovascular disease and HIV/AID patient population. Levi has acquired pharmacy-based certifications in Medication Therapy Management and Immunizations. She is a Certified Diabetes Educator (CDE) and HIV/AID Pharmacotherapy Educator. While a student at Drake, Levi spearheaded the resumption and expansion of the campus' Student National Pharmacist Association (SNPhA) chapter. After graduation, she transitioned to the National Pharmaceutical Association (NPhA) and was elected president in 2012 and served two consecutive terms from 2012-2014.
Levi has embraced her passion and commitment for community healthcare and participated and organized numerous community health fairs as part of the Walgreens Community Wellness & Health Initiatives. Her excellence in Community Pharmacy Care and Leadership led her to be awarded the Community Pharmacist of the Year Award for six consecutive years from 2011-2016 by the Chicago Commerce Association.
Natalie Schmitz, PH'14—Young Alumni Achievement Award
Natalie Schmitz earned her Doctor of Pharmacy and M.A. in Public Administration from Drake in 2014 and will be earning her Ph.D. in Experimental and Clinical Pharmacology from the University of Minnesota in May 2018. She is interested in a research focus on rare neurological disorders. She has been a Research Assistant since 2014 and had the opportunity to work on the development of IV baclofen, an investigational anti-spasticity agent with a proposed indication of treating or preventing baclofen withdrawal.
Natalie was selected as a scholar for the NIH-funded UMN Clinical and Translational Science Institute Advanced Research Program. In the summer of 2016 she completed a Clinical Pharmacology internship at Upsher Smith Laboratories in Maple Grove, MN where she performed pharmacokinetic analyses and prepared a clinical trial strategy for the early phase development of a new compound. She investigated potential biomarkers and wrote a white paper, which played a key role determining which biomarkers to pursue further. Most recently, she was selected as a scholar for highly competitive Rare Disease Clinical Research Training Program.
Crystal (Kemp) Lennartz, PH'04—Alumni Achievement Award
Crystal Lennartz earned her Doctor of Pharmacy and M.B.A. from Drake in 2004 and was a Community Pharmacy Practice Resident at Alberstons with an emphasis in Community Care. She is currently the Chief Pharmacist with McKesson's independent pharmacy franchise, Health Mart, which has grown to support over 4,800 pharmacies. Before becoming the Chief Pharmicist, Lennartz was the Manager of Operational Development and the Director of Clinical Development at Health Mart.
Following her residency, she split time between a staff pharmacist role and as a residency preceptor and MTM specialist for Albertsons in their Chicagoland stores. Lennartz realized early in her career that she enjoyed figuring out how to make patient care services work on a broader scale. She is passionate about giving back through mentorship especially related to women in business and pharmacy.
Frank Cable, PH'65—Alumni Achievement Award
Frank Cable received his Doctor of Pharmacy degree from Drake in 1965. He joined the South Sacramento Pharmacy in 1969 after spending 2 years in the U.S. Army as a pharmacist and in 1973 purchased the store. After 43 years of independent pharmacy ownership, Cable retired in 2016.
He became a founding member and 2nd president of Leader Pharmacies of Northern California, a co-op of independent pharmacies. Cable was also a founding member of the North Franklin District Business Association and served as president from 1990-2015. The business association collected revenue and drove the redevelopment of Franklin Boulevard, named the "ugliest street" in the area in 1985. This was his way of giving back to the neighborhood that had become home to his business and to the people who welcomed him there. Cardinal Health heralded his passion for community service in 2012 when he earned the Ken Wurster Community Leadership Award for Pharmacists. He has served on numerous advisory boards and was a preceptor for pharmacy students for over 25 years.
Luke Freml, B.S.P.S.'04—Alumni Achievement Award
Luke Freml earned his B.S. in Pharmaceutical Science from Drake in 2004 and D.D.S. at the University of Iowa College of Dentistry in 2008. He completed his residency at Loyola University Medical Center. While there, he spent a year training as a rotating resident in the departments of anesthesiology, general surgery, internal medicine, otolaryngology, and plastic and reconstructive surgery. His final three years were in the Oral & Maxillofacial Surgery Service. He was the acting Chief Resident during his final year. Freml joined Oral Surgeons, PC, a seven surgeon private practice with five locations throughout the Des Moines metro area. He holds staff appointments at all Unity Point Medical Centers as well as Lake View Surgery Center. As part of his staff appointments, he takes face trauma calls for Unity Point Health Systems.
Freml has also worked with Donated Dental Services. This program provides free, comprehensive dental treatment to community members with disabilities, who are elderly, or are medically fragile and cannot afford necessary treatment and get public aid. He enjoys providing continuing education credits to restorative dentists and was nominated by his peers as the leading contributor of information to a mini-residency program on advanced dental implant techniques.