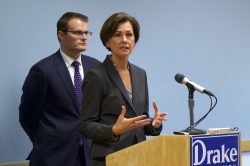 Identify, Prevent, Recover: Combatting Opioids in Iowa, pulled together healthcare professionals and policy makers, Thursday, Oct. 26, at Sussman Theater in the Olmsted Center. Following a welcome from CPHS Dean Renae Chesnut and two panels featuring health care provider strategies and Iowa's response, Iowa Governor Kim Reynolds laid out a four-point plan to combat opioid addiction. The plan calls for the following steps:
Encouraging doctors and pharmacists to participate in a prescription drug monitoring program (PDMP) that would alert them to patient misuse of opioids.
Reducing the number of opioid prescriptions. Iowa is down 10% from last year, but Reynolds says there is more progress to be made.
Joining 36 other states in passing a Good Samaritan Law, which would protect opioid users from prosecution if they dialed 911 in an overdose situation.
Improving treatment via a multi-year grant that reduces barriers to evidence-based, medication assisted treatments. This grant is available in 10 of Iowa's highest-need counties.
"It is important for our college to be part of the discussions in seeking solutions for this epidemic as our vision is to lead the way to a healthy world", noted Dean Renae Chesnut.  "While there have been some indications of decreases in the number of opioid prescriptions being prescribed, we cannot rest on our laurels. We have momentum in this war and need to continue to remember that drug use is a preventable behavior. Drug addiction is a treatable disorder."
In addition to the panels and the Governor's presentation, Iowa Attorney General Tom Miller spoke on "Opioids and Enforcement Measures."  The program also included "From Pain to Addiction and Into Recovery: A Success Story", which provided attendees with a personal testimony of the horrors of opioid addiction and the difficult road back to health.
Support for the event was provided by the Coalition for Public Safety, Drake University College of Pharmacy and Health Sciences, the Governor's Office of Drug Control Policy, and the Iowa Department of Public Health.
Opening Remarks & Health Care Provider Strategies Panel
https://youtu.be/HHWGIcbb68I
Iowa's Evolving Response Panel
https://youtu.be/AskvlyUC85w
Attorney General Miller & Governor Reynolds' Remarks
https://youtu.be/7XNwIpkay34