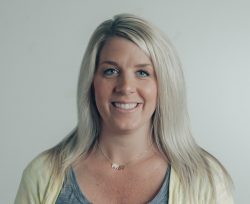 Kelsee Hove, Assistant Professor of Occupational Therapy
Dr. Hove brings additional neurological injury and adult rehabilitation expertise to our OT program. She is a graduate of Creighton's OTD program with a BA in Family Services from the University of Northern Iowa. She was previously employed at On With Life in Ankeny, Iowa. Kelsee will be teaching courses in brain injury and neurology for our OT students.
What is your role at Drake and what drew you here?
I am an assistant professor in the occupational therapy department and I teach the neuroscience classes. Along with teaching classes, I also advise first year pre-occupational therapy students. What drew me to Drake University was the friendly and welcoming environment. Everyone that I met here has been so helpful and friendly. I also have a passion for helping others, and the opportunity to teach students allows me to live that out and see how they will in turn go into the world to help others.
What excites you most about being here?
Helping to develop a new program that is specifically designed to provide the best training and knowledge for future occupational therapy practitioners. The resources both at Drake and in the community will allow for students to strive in the profession.
You started at Drake this school year, what sticks out so far?
The friendly atmosphere! Everywhere I go I see friendly faces and people welcoming me to Drake. I am very impressed by the faculty, staff and students that I encounter daily.
How would you describe your teaching style?
I want students to learn the basics of the profession but also to leave my classroom with enthusiasm and strive to become better. I have found it is very important to incorporate diverse learning techniques and to consider each individual's strengths and personal challenges when teaching others. In order to develop the appropriate knowledge and skills required to become an outstanding therapist, my teaching philosophy is based on these important principles: creating an environment that promotes active learning, fostering the development of critical thinking skills, participating in hands on activities that are clinically relevant and allowing time for self-reflection.
If you had one piece of advice for current or prospective students, what would it be?
Get involved! The more involved you get the more people you will meet and the more you will learn about yourself as well as others' perspectives. In the healthcare field it is important to have good people skills and being involved allows you to work on these skills as well as make several connections!
Have you taken a picture with a Bulldog yet?
Yes, during a scavenger hunt on campus!
Favorite spot on campus?
I really enjoy the painted sidewalk in the middle of campus! It gives a lot of character to Drake University!
What Drake tradition are you looking forward to experiencing?
The Drake Relays! I haven't been to them in years and would love to experience this again!