Des Moines native and Relays competitor returns home from Marquette University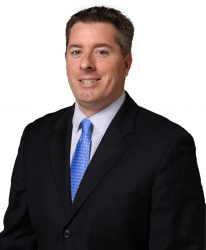 October 31, 2017 – Des Moines native Brian Hardin has been named Drake University's director of athletics, President Marty Martin announced today. He will join the Bulldog staff on Dec. 11 and become the 17th athletic director in University history. Hardin is currently a deputy director of athletics at Marquette University, with prior experience at Ball State University and the University of Notre Dame. Hardin will be formally introduced to the Drake community at a press conference on Nov. 10 at 10:30 a.m. in The Courtside Club, located inside the Shivers Basketball Practice Facility.
"After a robust, national search with a deep pool of highly qualified prospects, it became clear that Brian was the right fit for Drake," said Drake University President Marty Martin. "His reputation for success and integrity in all facets of athletics administration at Division I institutions immediately attracted us to him. Most importantly, Brian understands and is passionate about the distinct and important role athletics play in supporting the Drake University mission. His strong vision will ensure a seamless transition with Megan Franklin, who has provided tremendous service as our interim director of athletics."
As deputy director and part of the athletic department's executive team at Marquette, Hardin helped oversee the university's 16 varsity sports, more than 300 student-athletes, and nearly 100 full-time employees. His work in the department's business development and external engagement areas generated more than $11 million annually. Hardin was part of five BIG EAST championship programs, which were the first BIG EAST championships won by their respective programs in school history.
Martin noted that Hardin's familiarity with Drake and Des Moines from having grown up here and competing on Drake Stadium's Blue Oval is a nice bonus for the community and an added draw for his family. Brian and his wife, Cara, have three sons—Noah, and twins Elliot and Bennett.
"I am so grateful to President Martin and the search committee for this exciting opportunity," Hardin said. "In order for an athletics department to be successful, there has to be strong university leadership. Drake has a president and board of trustees who understand and support athletics. I look forward to building upon the University's storied past and helping create an even brighter future for our student-athletes, fans, alumni and the greater Des Moines community."
At Marquette, Hardin served as sport administrator for men's soccer, men's tennis, and men's and women's cross country and track and field, as well as advised the athletic director on matters pertaining to men's and women's basketball. He oversaw marketing and fan engagement, ticket sales and service, merchandising, licensing, corporate partnerships, and served as liaison with student-athlete alumni.
"We could not be more excited to welcome Brian and his family back to Des Moines and to our Bulldog family," said Jennie Baranczyk, Drake Head Women's Basketball Coach. "We are confident that our program has the support needed from the president's office and incoming leadership in the athletic department to compete at the highest level." Baranczyk, President Martin, and Drake University Trustee Dan Jacobi comprised the search committee and were  assisted by Korn Ferry Executive Search.
"As the men's basketball program enters a new era, I am excited to welcome a new leader for Drake athletics." said Niko Medved, Drake Head Men's Basketball Coach. "Our student-athletes are ready to start the season and we are excited to welcome Brian and his family to the Knapp Center."
Hardin was born with a Bulldog spirit; both his parents are Drake alumni. Bob and Jan Hardin graduated with bachelor's degrees from the School of Education in 1973. Bob, who teaches and coaches cross country at Valley High School in West Des Moines, returned to earn his master's in education in 1987. Brian is a 1998 graduate of Valley High School, was a Drake Relays champion while in high school and competed at the Relays at the university level all four years while attending Marquette.
"Brian is a high-character leader and strategic thinker," said Marquette President Michael R. Lovell. "He embodies the very best characteristics of a Marquette graduate and will do great work at Drake University."
While enrolled at Marquette, Hardin worked as a student assistant in the sports marketing and sports information departments. Hardin ran on the university's track team and was a letter winner all four years, serving as a team captain his senior year. Immediately after graduation, he interned for the sports information department at Loyola University of Chicago before joining the media relations team for the Chicago Bears. Returning to collegiate athletics, Brian joined Notre Dame as their director of football media relations in 2006, moving on to Ball State University where he eventually rose to interim director of athletics.
"Brian is a bright and talented administrator who brings a great passion and understanding of the intercollegiate landscape to work with him every day," said Bill Scholl, Vice President and Director of Athletics for Marquette. "It has been particularly rewarding to work with Brian over the past couple of years as he had the opportunity to return to his alma mater and help shape the future of Marquette athletics. Drake is getting an individual who will care deeply about the University and its student-athletes. I am thrilled for Brian, Cara, and his sons as he takes the next step in his career."
Drake University Athletic Directors
1894-95  W.W. Wharton
1897  William J. Monilaw
1907   Doc Pell
1910-1918  John L. Griffith
1919-1921  M.B. Banks
1922-1932  Ossie Solem
1931-1940  E.O. Williams
1940-1946  V. J. Green
1946-1951  J. Russell Cook
1951-1956  Jack McClelland
1957-1959  Dolph Stanley
1959-1968  Jack McClelland
1968-1986  Bob Karnes
1986-1990  Curt Blake
1990-2000  Lynn King
2000-2006  Dave Blank
2007-2017  Sandy Hatfield Clubb