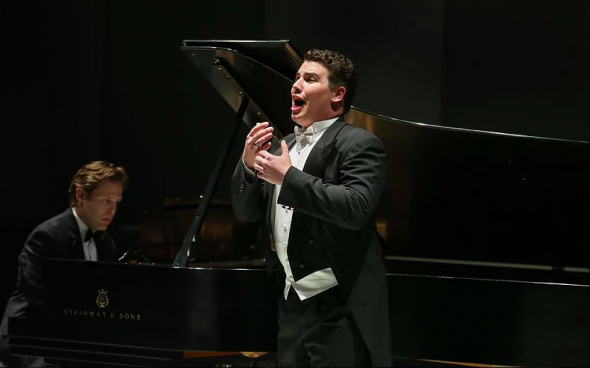 Drake University alumnus Eric Ferring is on the cusp of making it big in the opera world. He was recently accepted into the ensemble at the Ryan Opera Center at the Lyric Opera of Chicago, one of the most prestigious opera programs in the country.
In this two- to three-year program, Ferring will have voice coaching every day and voice lessons every week, while putting on concerts, recitals and performing in roles during the mainstage season.
"He really is having a career as a singer, with full-time employee benefits," said professor of voice Leanne Freeman-Miller, Ferring's voice coach while he was at Drake. "It's always great to a see a young Drake alum with a promising career ahead of them."
Ferring graduated from Drake in 2014 with a Bachelor of Music in vocal performance. During his time at Drake, he was active in the Drake choirs, opera productions, the Brocal Chords acapella group and the Residence Hall Association. He also conducted four mainstage musicals for the theatre department.
 "Drake definitely provided the foundation for my success," Ferring said. "Attending a smaller private university, especially one focused in the liberal arts, provides students a more well-rounded education that they can take with them into the field."
Undergraduate students at Drake are able to participate in full-scale opera productions, complete with an orchestra and supertitles, an opportunity Drake professors say is rare.
"I really don't know a program like it," Freeman-Miller said.
At many schools, graduate students are the ones who are able to perform roles in opera productions, but at Drake, that opportunity is there for undergraduate students. Drake's tight-knit program also ensures that students benefit from close faculty mentorship.
"They're the ones that are up onstage. They're the ones who are working with professors, rather than a teaching assistant," said Ann Cravero, an associate professor of voice and the opera director at Drake.
Students learn from vocal coach Stefano Vignati, a native of Rome, Italy, who conducts the orchestra for its opera productions and provides coaching on Italian language, diction and repertoire. Vignati makes it easier for Drake to put on productions in Italian with supertitles, though they have also performed in German.
"They have another level of knowledge that most undergraduate students won't get to have," Cravero said.
Drake voice students have other opportunities as well, such as performing with the Drake Choir and taking masterclasses from world-renowned performers and teachers who come to Drake.
"Drake Choir is a huge part of the student's experience," Freeman-Miller said. "There's a long-standing tradition of excellence in the choirs."
Recently, Drake has hosted clinicians such as Sherrill Milnes, a world-famous baritone, and the music faculty at the Boston Conservatory, which opens the door for students to network with potential graduate school teachers. Many of Drake's graduates—including Ferring—have enrolled in and completed master's programs at Boston Conservatory.
"They're getting feedback. They're hearing something different," Freeman-Miller said. "It's eye opening."
Between the opera productions, masterclasses and choir experiences, Drake students learn how to make it in the professional world.
"The professors have taken me past thinking 'oh I like singing' and taught me what I need to do to be a professional singer," said junior vocal performance major Elizabeth Fisher.
Drake opera prepares students for the professional world, but also gives students a place to be at home for four years.
"Drake will always have a special place in my heart," Ferring said. "I'm here to tell you that if you want to be an opera singer, it won't be easy, but it's absolutely possible."
Drake Opera Theatre will present Mozart's "The Magic Flute" May 4-6, 2018.
Above: Eric Ferring performs "Dies Bildnis ist bezaubernd schön," an aria from Mozart's "The Magic Flute."