PR, master's students rake in honors
Last week was a milestone for SJMC's graduate and public relations students, who were nominated or won both national and local PR awards:
Two seniors were named finalists in the PR News annual contest: Maddy Gildersleeve has been nominated as Student of the Year and Sarah Mondello has been nominated as Intern of the Year.
SJMC students also took home PRIME Awards in the annual Central Iowa Public Relations Society of America competition:
Community Champion Merit Award, 

Drake Master of Communication Leadership Capstone — YMCA Supportive Housing Campus Plan: 

Jill Brimeyer, Alexis Davis, Thomas Lehn, Aimee Schmidt, Seth Stevenson

Student Merit Award, 

Drake PR Planning Class — USDA Farm to School Communications Plan: 

Kelly Marble, Jasen Emamian, Reed Fischer, Miranda Jama, Kate Havens, Becca Hawkins, Tess Nissen

Excellence Award for Outstanding Student Member — 

Savana Morrison
Drake students knock it out of the park in national journalism contests
Drake students won big last weekend in the national College Media Association and Associated Collegiate Press contests.
Three Drake publications won Pacemaker awards, the top award in college journalism. Drake Magazine and the Annual won magazine Pacemakers and Urban Plains, the senior SJMC journalism capstone website, won an online Pacemaker. 
Other awards:
Honorable Mention, multimedia story of the year, sports: Urban Plains/Melissa Studach
5th place, Design of the Year, newsmagazine/special section cover: Drake Magazine/Maddie Hiatt
Honorable Mention, Design of the Year, infographic: Drake Magazine/Linzi Murray
In the CMA competition, Drake won five awards:
Four-Year Feature Magazine of the Year: Second Place, Drake Magazine

Best General News Story: Second Place, Molly Longman, Drake Magazine
Best Magazine Cover: Second Place, Maddie Hiatt, Drake Magazine
Best Magazine Contents Page/Spread: Third Place, Maddie Hiatt, Drake Magazine
Best Arts and Entertainment Story: Honorable Mention, Sydney Schulte, Urban Plains
Spreading the word about new online master's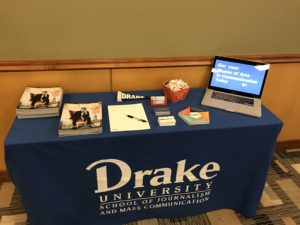 Professor Sandy Henry's strategic message design class took on the SJMC's new online Master of Arts in Communication as a client this fall. The MAC kicks off in January, with four tracks in Communication Leadership, Brand Communication, Public Policy and Advocacy, and Health and Science Communication. Henry's class created messaging, collateral materials and a video to promote the program at last week's local Public Relations Society of America conference.
Advising session scheduled for Wednesday
A drop-in advising session for spring registration will be held Wednesday, Nov. 1, 9-11 a.m., in Mer. 104.
Harkin Institute hiring communications, policy interns
The Harkin Institute for Public Policy and Civic Engagement is seeking to hire communications, event planning, and public policy research and analysis assistants. 
The communications assistants create content and advertising for the institute. The position will primarily focus on social media, graphic design, video editing, and advertising/public relations. Students would start off as a general assistant and then specialize into an area of their choosing.
Public policy, office, and event planning assistants should have an interest in public policy research and/or analytics. Students should have strong general research, writing, event planning and analytics skills.
More information can be found at http://harkininstitute.org/for-students/join-our-team/.
Des Moines ranked No. 5 nationally for careers
As SJMC grads who have gotten jobs in Des Moines have found, the city is rich with opportunities for young professionals. Forbes magazine last week ranked Des Moines No. 5 in the nation for business and  careers.
Civic Engagement Opportunity and Internship Fair
Student Senate is hosting a Civic Engagement and Internship Fair to showcase positions in service organizations and political campaigns. The fair will be held Tuesday, Nov. 7 at 5 p.m. in upper Olmsted Center.
Horses a hit at Cool Jobs Expo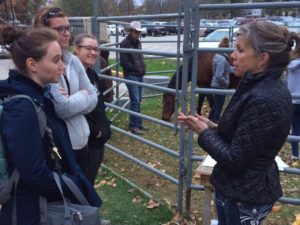 More than 175 students mingled with area communications professionals at the SJMC's first Cool Jobs Expo last week. Employers such as KCCI-TV, Meredith Corp., The Des Moines Register, the Iowa Wild, Two Rivers Marketing, the Iowa Natural Heritage Foundation and Saturday Mfg. shared the sorts of opportunities they offer for Drake students and grads. Among the most popular of the participants: Kim Waltman, JO'93, above right, a consultant who brought two of the horses she uses as part of her business, fullCIRCLE creative + coaching. The door prize winner was Mariah Anderson, whose name was drawn to receive a gift certificate for one 60-minute equine-guided coaching session.
The winners of the "Most Favorite" cool jobs, as voted on by attendees, were KCCI and Saturday Mfg. If you liked the event and have ideas for next year or would like to be part of the planning (and network with cool jobs employers) contact SJMC internship coordinator Carlyn Crowe.
Have a news item for the Memo?
The SJMC Monday Memo is a weekly newsletter to keep members of the wider SJMC community updated on School news, achievements, events and opportunities. If you have an item for the Memo, please send it to Dean Kathleen Richardson (kathleen.richardson@drake.edu) or  SJMC webmaster and multimedia professor Chris Snider (christopher.snider@drake.edu). SJMC alums and other professionals can also contact Chris to have the Memo delivered via weekly email. 
The School of Journalism and Mass Communication strives to create a community of scholars that represents the complexity of the human experience in regards to race, ethnicity, sex, sexual orientation, economic status, gender identification, religion, age and physical abilities. We are committed to creating a welcoming and supportive environment for all our faculty, staff, students and visitors, and celebrating our differences through the lens of the First Amendment value of freedom of expression.