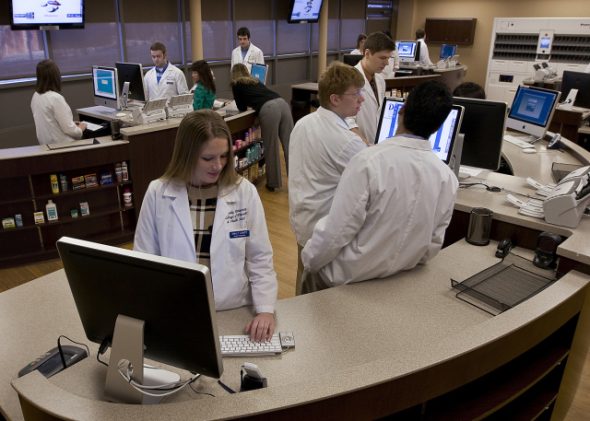 Upcoming laboratory renovations will enhance Drake University's ability to teach pharmacy students a diverse set of clinical skills that are required of today's pharmacists
Charlie Porter, PH'70, and Pat Porter, ED'71, recently made a significant gift to renovate and expand the Donald F. Davidson Pharmacy Practice Laboratory in Fitch Hall.
The 8-year-old lab space will remain a licensed pharmacy, but a reconfigured floor plan will provide greater flexibility for collaborative study of important skills including immunization administration, patient consultation, preventative health screenings, and medication therapy management. Construction is expected to begin in December, and the project will add 450 square feet of floor space to the 1200 square foot lab.
Critically, the newly renovated space—known as the Porter Clinical Skills Center, which will include the Davidson lab—also allows for more focused and efficient teaching in the pharmacy school's other highly-trafficked lab spaces. Those include the Mayhew Compounding Laboratory, which emphasizes pharmaceutical compounding and sterile lab tasks like IV bag preparation andvial reconstitution, and the Johansen Skills Assessment Laboratory, where students practice one-on-one patient care.
"Today's pharmacists are a vital component of the healthcare team as they work closely with patients and medical practitioners in community, clinical, and hospital pharmacy settings," said Renae Chesnut, dean of the College of Pharmacy and Health Sciences. "This transformative gift elevates Drake's ability to teach pharmacy skills that students need in today's workforce and in the future of pharmacy."
Charlie Porter said the lab renovation aligns with industry trends and reflects his values as a pharmacist. Porter is retired president and co-owner of Medicap Pharmacies, a retail chain that grew from one Iowa location when Porter was hired as a pharmacist in the 1970s to more than 200 locations in 38 states at the time the company was sold in 2003.
"When we started [Medicap Pharmacies], our main objective was to provide patient care—not just to fill prescriptions," Porter said. "That's why we were one of the first organizations in the U.S. to put private counseling rooms in our pharmacies. Those same values are reflected in the clinical skills lab they're developing at Drake—it's all about providing better patient care."
Charlie Porter and Pat Porter, a retired public school teacher, credit much of their professional success to Drake's strong reputation and to the skills they learned during their time at the University.
"Both of us have been offered every job we ever applied for," Charlie Porter said. "I think a lot of that had to do with the fact that we had a Drake education as a foundation. We have always been proud supporters of Drake, and we're glad to have been able to support the pharmacy program."