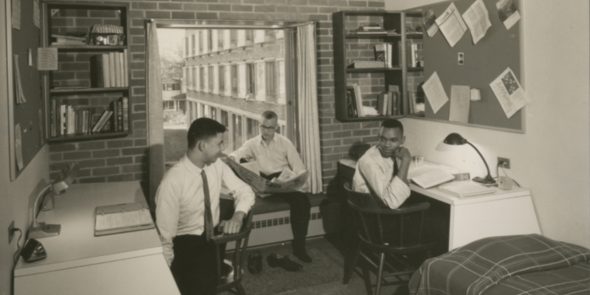 A new Drake University art exhibit will explore the architects behind some of Drake's great buildings. Perhaps more importantly, it will explore how the University has claimed these buildings as its own.
Ludwig Mies van der Rohe and Harry and Ben Weese are widely recognized as architects. Drake Professor of Art and Design Maura Lyons sees them as artists.
This November, Mies and the Weeses are the subjects of the upcoming Anderson Gallery exhibit "Mies/Weese at Drake: Where We Live and Work." Mies is the mind behind Meredith Hall while the Weese Architectural Firm designed Goodwin-Kirk Dormitory, Harmon Fine Arts Center, and Olmsted Center.
"These are all buildings where we spend time and work in, but we often don't think about their history," Lyons says. She remembers when she first came to the University and learned about the famous architects who helped build the campus. Her curiosity was piqued, which led to her 2008 exhibit on Eliel and Eero Saarinen, the father-and-son architects who designed nine buildings that were added to campus between 1949 and 1955. That exhibit stirred up a lot of interest from the Drake community and beyond. Partially due to its success, she is continuing the idea through an exhibit on Mies and Weese.
Lyons and a class of Drake art students collected photos, architectural plans, drawings, and miniature models for the exhibit. She also consulted Matt Coen, a Des Moines architect with Walker Coen Lorentzen Architects, for an architect's perspective on the exhibit.
"Drake has an amazing, forward-thinking campus," Coen says. "Most people who aren't in the architectural community don't know how progressive it is. Drake really put itself on the map." While the history and significance of the artists' work is important, the most engaging portion, Lyons says, are the stories of how the spaces were used.
"Buildings aren't just concrete and brick," she says. "There are other dimensions to them." To explore the other dimensions, and how the space is used, Lyons put out a call over social media and the last issue of Blue to alumni for their memories of the buildings Mies and Weese created. These memories show how students have claimed the space.
One alumnus told the story of a "musical prank" he and his neighbors pulled off in Goodwin-Kirk. A student would slam one door, then his next-door neighbor would slam their, then the next, then the next, eventually traveling up to the top floor of the dormitory. This story of audible dominoes is enlightening for Lyons and gallery-goers.
"When you hear or read that story, you're not just looking at a photograph or plan, but seeing how people interact with a space and make it their own," Lyons says. "Those pieces of information are where the public can connect to the art."
Visit the Anderson Gallery on November 9 through December 22 to see "Mies/Weese at Drake: Where We Live and Work."