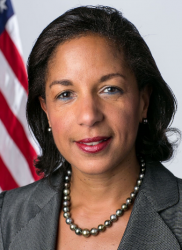 Drake University will serve as Des Moines' host site for a live "town hall" event with Ambassador Susan Rice, former national security advisor to the Obama administration, on the subject of U.S.-China relations.
The CHINA Town Hall, organized by the National Committee on U.S.-China Relations, is scheduled for 6 p.m. Tuesday, Oct. 24., in Sussman Theater of Drake's Olmsted Center, and will also include in-person remarks by an international expert on Asia. The event is free and open to the public.
The CHINA Town Hall is a live conversation, viewable in 80 cities nationwide, that examines the complex U.S.-China relationship and its influence on the U.S. economy, policies, and security. National Committee President Stephen Orlins will moderate a conversation with Rice, a former U.S. representative to the United Nations and former senior director for African affairs at the National Security Council. She will draw on her extensive experience to discuss the economic, political and security relations between China and the United States. Attendees will have an opportunity to submit their questions to Rice.
"It is vital we cultivate deeper understanding of the nuances of US-China relations in our local community if Iowa is going to take advantage of the window of opportunity that has opened with Terry Brandstad becoming US Ambassador in Beijing," said Assistant Professor of International Business Jeff Kappen, interim director of the Principal Center for Global Citizenship and the Nelson Institute for Diplomacy and International Affairs at Drake University.
The webcast will be followed by an in-person presentation titled "Are We on the Verge of the Chinese Century?" by Dr. Ira Kasoff, a senior counselor with APCO Worldwide. Kasoff is former deputy assistant secretary for Asia with the U.S. Department of Commerce, principal commercial officer at the U.S. Consulate General in Shanghai, commercial counselor at the American Embassy in Tokyo, and senior commercial officer at the U.S. Consulate General in Hong Kong.
The goal of the event is to engage American citizens nationwide to understand the challenges and opportunities that the U.S.'s relationship with China presents.
For fifty years, the National Committee on United States-China Relations has been the leading national, non-partisan, nonprofit public affairs organization devoted to building constructive and durable relationships between the United States and China. https://www.ncuscr.org
##
EVENT: CHINA Town Hall: Discussion and live Q&A with audiences in 80 venues nationwide
WHO: Ambassador Susan Rice, former national security advisor and U.S. ambassador to the UN 
WHERE: Drake University Olmsted Center, Sussman Theater
WHEN: Tuesday, October 24, 2017 / 6:00 – 8:00 P.M.
INFORMATION: Program and speaker information: https://www.ncuscr.org/content/2017-china-town-hall-susan-rice
LIVE-STREAM (Susan Rice): https://www.ncuscr.org/content/china-town-hall
HOST: National Committee on U.S.-China Relations: www.ncuscr.org
CONTACT: 
Jeffrey Kappen
Assistant Professor of International Business
Interim Director, Principal Center for Global Citizenship & Nelson Institute for International Affairs
515-271-4095
jeffrey.kappen@drake.edu 
Joseph Weed
Director of Communications
National Committee on U.S.-China Relations
646-604-8001
jweed@ncuscr.org