Welcome to this week's Monday Memo on Wednesday!
Hope you had a restful fall break

Drake PRSSA wins national award
The Drake chapter of the Public Relations Student Society of America was recognized as a Star Chapter at the 2017 PRSSA National Conference in Boston recently. 
Participate in University accreditation
A review team from Drake's accreditors, the Higher Learning Commission, will be on campus next Monday and Tuesday, Oct. 23-24. Students will have an opportunity to provide input into the process during an open session on Monday, Oct. 23 at 2 p.m. in the Cowles Reading Room. Learn more about the process here: http://oncampus.wp.drake.edu/2017/10/17/hlc-visit-nears-your-participation-is-important/
Make an appointment for spring registration
Registration for spring semester starts Oct. 30-31. Set up a meeting with your adviser now to discuss your curriculum requirements; most faculty have sign-in sheets on their office doors.
Consumer awareness students visit ad agency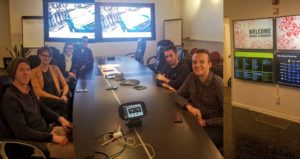 Ad Professor Dorothy Pisarski arranged a meeting with Integer Group for the JMC 113 class, Concepts in Consumer Awareness. The agency's session on strategic insights was hosted by SJMC ad alum Nick Grant, JO'07. Also visible is the Integer social listening suite, where staff can keep track of their clients' social mentions.
Have a news item for the Memo?
The SJMC Monday Memo is a weekly newsletter to keep members of the wider SJMC community updated on School news, achievements, events and opportunities. If you have an item for the Memo, please send it to Dean Kathleen Richardson (kathleen.richardson@drake.edu) or  SJMC webmaster and multimedia professor Chris Snider (christopher.snider@drake.edu). SJMC alums and other professionals can also contact Chris to have the Memo delivered via weekly email. 
The School of Journalism and Mass Communication strives to create a community of scholars that represents the complexity of the human experience in regards to race, ethnicity, sex, sexual orientation, economic status, gender identification, religion, age and physical abilities. We are committed to creating a welcoming and supportive environment for all our faculty, staff, students and visitors, and celebrating our differences through the lens of the First Amendment value of freedom of expression.