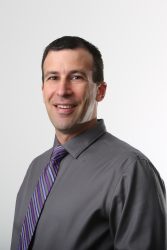 The Drake University College of Pharmacy and Health Sciences announced Nathan Newman as director of the new athletic training master's program at Drake University.
Newman previously served as director of the athletic training program at Loras College (2010–2017). Prior to leading the program, he served as an instructor and assistant athletic trainer at Loras. He was named Iowa Athletic Trainers' Society Educator of the Year in 2012.
Newman joined Drake's faculty Aug 1, 2017. His knowledge and experience will be valuable to future generations of athletic trainers—a profession that is expected to grow by 21 percent over the next 10 years, according to the Bureau of Labor Statistics.
"We are fortunate to have Nate join our College as the inaugural director of Athletic Training Program," said Renae Chesnut, dean of the College of Pharmacy and Health Sciences. "His experience in athletic training—as a practitioner, faculty member and program director—combined with his vision and boundless energy will make him an asset to our college and our future athletic training program students."
Newman's teaching philosophy focuses on engaging students in hands-on activities that apply concepts covered during lectures and in course readings.
"I am enthusiastic to develop an athletic training program at Drake where students will be able to have inter-professional experiences with pharmacy and occupational therapy students, experience a Division I athletics program, and complete concentrations in a variety of athletic training specialty areas," Newman said. "This will allow our athletic training program to be one of the top programs in the region."
Newman earned a Bachelor of Science in Exercise Science with an emphasis in Athletic Training from the University of Iowa in 2003; a Master of Kinesiology from Western Illinois University in 2005; and a Doctor of Education in Allied Health, Recreation, and Community Services from the University of Northern Iowa in 2015. He served for two summers (2003 and 2004) as athletic training intern for the National Football League's St. Louis Rams.
Newman serves as treasurer of the Iowa Athletic Trainers' Society and is chair of its Honors and Awards Committee. He has published scholarly work in the International Journal of Athletic Therapy and Training, has a chapter forthcoming in Therapeutic Modalities in Rehabilitation (5th ed.), and has presented at the Mid-American Athletic Trainers' Association Symposium and Iowa Athletic Trainers' Society Symposium.
Drake will offer a Master of Science in Athletic Training beginning with the fall 2019 semester.
More than 10 Drake undergraduate students are currently enrolled in a Pre-Athletic Training track, which will allow students to complete a Master of Science in Athletic Training and a Bachelor of Science in Health Sciences in five years. The two degrees would typically take six years to earn separately.
Students in Drake's Pre-Athletic Training program are guaranteed an interview for admission to the master's program; faculty mentors and advisers are available to provide resources and support throughout their academic career. Students may also apply to the master's program directly after completing the prerequisites at another institution.