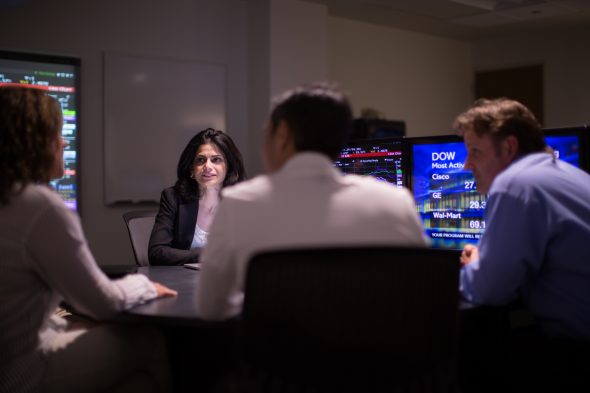 Drake University today announced that students who are enrolled in the University's Pre-M.Acc. and Pre-M.B.A. courses may apply for entrance exam waivers beginning in Spring 2018. The announcement provides an additional pathway for students who want to further their education.
Students who meet certain academic criteria are already eligible for an entrance exam waiver upon enrollment to the Master of Business Administration and Master of Accounting courses, while students who do not meet waiver requirements may begin coursework toward a degree before completing entrance exams and submitting formal transcripts.
Under the new admission guidelines, students who successfully complete graduate-level coursework in the Pre-M.B.A. or Pre-M.Acc. programs may also apply for a waiver.
"By offering to waive the entrance exam requirement for academically successful students in our Pre-M.B.A. and Pre-M.Acc. programs, we are allowing students a more seamless transition into the full graduate program while ensuring that every student who receives a Drake degree has the professional and academic track record that he or she needs to succeed," said Danette Kenne, assistant dean of the College of Business and Public Administration.
Drake's M.B.A. program is offered in a hybrid classroom model—the only one of its kind in central Iowa—that blends the convenience of online coursework with the benefits of intensive classroom experience. About half of course time is completed online, with the other half completed on Drake's campus. The flexibility of this hybrid model allows working adults to earn a degree without sacrificing quality for convenience or personal life for professional development.
More information about graduate programs in Drake's College of Business and Public Administration, including program requirements, curricula, costs, and financial aid opportunities is available online at www.drake.edu/cbpa/grad, or by contacting Dianna Gray, manager, marketing and engagement for Drake University's College of Business and Public Administration, at 515-271-3921 or dianna.gray@drake.edu.