The Drake University College of Pharmacy & Health Sciences welcomed 127 Occupational Therapy Doctorate and Doctor of Pharmacy students at the annual White Coat Ceremony on Friday, August 25 in the Knapp Center.
The PharmD Class of 2021 includes 93 students, with 64 women and 29 men.  Iowa native students make up 41% of the population while 59% are from out-of-state:  Illinois (15), Indiana (1), Kansas (1), Minnesota (21), Missouri (3), Nebraska (1), Utah (1) and Wisconsin (12).
The OTD Class of 2020 is comprised of 34 students, of which 29 are females and 5 are male. Fifteen students are from Iowa while 19 come from out-of-state:  Arizona (1), Arkansas (1), Colorado (1), Illinois (5), Kansas (1), Minnesota (3), Missouri (1), Nebraska (1), South Dakota (2) and Wisconsin (1).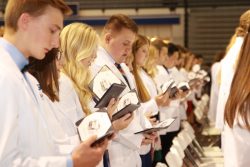 The White Coat Ceremony celebrated the accomplishments of the incoming doctoral students as they began the next phase of their careers.
Following the ceremony processional, Renae Chesnut, dean of the college of pharmacy and health sciences, welcomed the students and guests, explaining the honor that comes when wearing a white coat. "The white coat is more than a coat you wear in laboratories and in practice. It is recognition of a transition into the profession and stands for the authority of science and the art of healing."
Alex Maciejewski, P2, provided a student's point of view, 365 days after his own white coat ceremony. He went on to congratulate each of the students for reaching this pivotal point in their educational journey. "You are now one step closer to a career as a healthcare professional," Maciejewski said.
Leanne O'Brien, President of the Iowa Occupational Therapy Association and Kate Gainer, Executive VP & CEO of the Iowa Pharmacy Association welcomed the students to their respective professions. Each of them offered advice to the students as they embarked on their academic journey.
Hundreds of family and friends attended the event. They watched their sons, daughters, nieces, nephews, granddaughters, grandsons, cousins, and friends receive their white coat. Students also learned which alumni and other friends were their white coat sponsor. As they continue on in their professional program, their white coat sponsor will serve as a professional mentor.
To view a recording of the 2017 White Coat Ceremony, click here. Planning has begun for the 2018 White Coat Ceremony which will be held on Friday, August 24, 2018.