The College of Pharmacy and Health Sciences is excited to welcome nine new Bulldogs to the Drake family.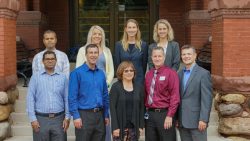 ADMINISTRATION AND LEADERSHIP
Michael Nelson, Assistant Dean for Student Affairs and Enrollment Management and Professor of Pharmaceutical Sciences
Dr. Nelson earned his BS in Pharmacy from the University of Washington, and his PhD from the University of Minnesota. He has held academic positions at Southwestern Oklahoma State University and Wingate University. He was most recently at Regis University where he served as the Chair for the Pharmaceutical Sciences Department, which included a year of working in student affairs. Michael brings experience in facilitating student leadership, developing new programs, serving as an academic administrator, and overseeing student services.
Yolanda Griffiths, Department Chair and Director of Occupational Therapy
Dr. Griffiths became the director of the Occupational Therapy program at Drake University on June 30, 2017. Yolanda most recently served as director of the occupational therapy program at College of Saint Mary in Omaha, Neb., a position she has held since 2012. Prior to her role at Saint Mary, she served for 20 years as an associate professor in the occupational therapy program at Creighton University, where she helped to develop the entry-level and post-professional distance-based doctorate programs. Her extensive career also includes more than 20 years of practical experience as an occupational therapist at numerous mental health clinics and community hospitals. She earned her OTD from Creighton University.
Nate Newman, Director and Department Chair and Director of Athletic Training
Dr. Newman joined Drake on Aug. 1 as the Director of our new Masters in Athletic Training Program. Nate was previously the Director of the AT program at Loras College in Dubuque, IA. He earned his BS in Exercise Science from the University of Iowa, MS in Physical Education with an emphasis in Kinesiology from Western Illinois, and in 2015, an EdD in Allied Health, Recreation and Community Services from the University of Northern Iowa. Along with prepping for our AT program which starts in Fall 2019, Nate will be busy teaching health sciences courses and a First Year Seminar.
HEALTH SCIENCES
Stacy Gnasinski, Assistant Professor of Health Sciences
Dr. Gnasinski earned her PhD in Health Sciences from the University of Wisconsin – Milwaukee this summer. She earned a MS in Kinesiology with Specializations in Sport Psychology and Exercise Physiology also from UW-Milwaukee. She holds a BS in Biology from the UW-La Crosse. Stacy is a Certified Strength and Conditioning Specialist (CSCS) and will be teaching courses in physiology and bioethics.
OCCUPATIONAL THERAPY
Stanley Paul, Professor of Occupational Therapy
Before joining Drake, Dr. Paul was an Associate Professor and Director of a Post-Professional OTD Program at South College in Palm Beach Florida. Has practiced in a variety of clinical OT positions in India, NY, and Georgia and had faculty positions at Keuka College, Georgia Health Sciences University and Western Michigan University. He has earned several teaching and research awards and will be taking the lead on teaching research courses for our OTD students (they complete 5 research courses). He earned a BS in Occupational Therapy from Christian Medical College, Vellore, India, a MS in Occupational Therapy from State University of New York at Buffalo, a PhD in Occupational Therapy from New York University, and a DM at Hope University School of Medicine, Belize, Central America.
Kelsee Hove, Assistant Professor of Occupational Therapy
Dr. Hove brings additional neurological injury and adult rehabilitation expertise to our OT program. She is a graduate of Creighton's OTD program with a BA in Family Services from the University of Northern Iowa. She was previously employed at On With LIfe in Ankeny, IA.  Kelsee will be teaching courses in brain injury and neurology for our OT students.
PHARMACY
Shankar Munusamy, Associate Professor of Pharmacology
Dr. Munusamy holds a BS in Pharmacy from M.G.R. Medical University in Chennai, Tamilnadu, India, a MS in Pharmacology and Toxicology from the National Institute of Pharmaceutical Education and Research in Mohali, Punjab, India, and a PhD in Pharmacology from the University of Arkansas for Medical Sciences. He completed a post-doctoral fellowship in the Department of Physiology & Biophysics at the University of Mississippi Medical Center. Since 2011, Shankar has been an Assistant Professor of Pharmacology in the College of Pharmacy at Qatar University and has experience teaching a wide range of topics in pharmacology. He is an accomplished researcher in the molecular biology and pharmacology of chronic kidney disease.
Jamie Pitlick, Associate Professor of Pharmacy Practice (Iowa Diabetes Endocrinology Center at Mercy Hospital and Clinics)
One of our own returns home! Dr. Jamie Pitlick earned her PharmD from Drake in 2008 and then completed a pharmacy practice residency at Mercy Family Medicine in association with the St. Louis College of Pharmacy. Before returning to Drake, she was previously Clinical Associate Professor at the St Louis College of Pharmacy. Jamie will be filling the faculty position held by Dr. June Johnson, who retired at the end of June 2017, and will be involved in teaching our diabetes content with a pharmacy practice site at the Mercy Diabetes and Endocrinology Center.
Michael Daly, Assistant Professor of Pharmacy Practice (The Iowa Clinic)
Dr. Daly earned his Doctor of Pharmacy from the University of Nebraska, BS in Biology at Creighton University, Pharmacy Practice Residency at Barnes-Jewish Hospital in St. Louis, and MS in Clinical Investigation at Washington University's Clinical Research Training Center Postdoctoral Program. He was most recently Pharmacy Clinical Manager at the SSM Health Saint Louis University Hospital. Prior to that, he was the Assistant Professor of Pharmacy Practice, St. Louis College of Pharmacy with a site as the Internal Medicine Clinical Pharmacist/Faculty at Missouri Baptist Medical Center, St. Louis, MO. Mike is based at The Iowa Clinic Internal Medicine Clinic in West Des Moines.