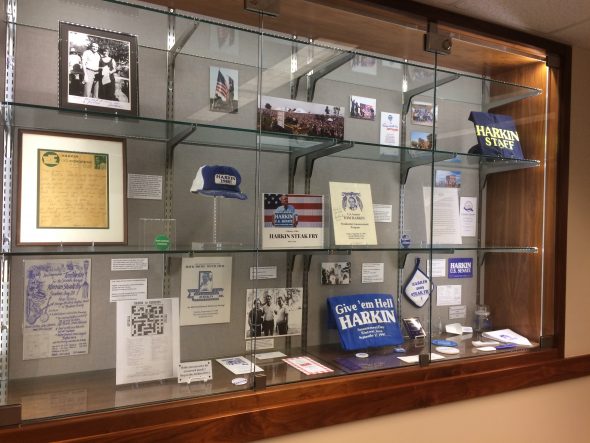 A new exhibit at Drake University's Cowles Library features memorabilia from the Harkin Steak Fry, a longtime staple of Iowa's Democratic political process.
The exhibit, compiled by Political Papers Archivist Hope Grebner Bibens, features materials from The Tom Harkin Collection at Drake University and items on loan from Joan Kiernan, whose family hosted the first the Steak Fry in 1972. Memorabilia includes Harkin-themed cooking utensils, campaign buttons and even the Harkins' recipe for stuffed pork shops.
Originally designed as a political fundraiser for then-Congressional candidate Tom Harkin, the event gained greater notoriety when Harkin announced his candidacy for president at the Steak Fry in 1991. In the years that followed, the Steak Fry became a must-attend event for many Democratic candidates looking to make a good impression with first-in-the nation Iowa Caucus goers.
"You can't talk about Iowa politics without including the Harkin Steak Fry," Grebner Bibens said. "When I accepted the job here at Drake my start date was November 2014, but I was not going to miss the last Harkin Steak Fry. So, I drove the eight hours or so from Bloomington, Ind., because I had to make sure I was there to witness history and experience an event that is quintessentially Iowan whether I had officially started my position as the archivist for the Harkin Papers or not. It has been so enjoyable to sift through the memorabilia in the collection and to visit with Joan Kiernan about the early days of the event."
The exhibit will be on display outside of the Drake University Archives and Special Collections on the second floor of Cowles Library through the end of the semester. Drake created The Tom Harkin Collection at Drake University in 2014, when Harkin retired from more than 40 years of service in the U.S. Congress and transferred his historical and memorabilia papers to the University.