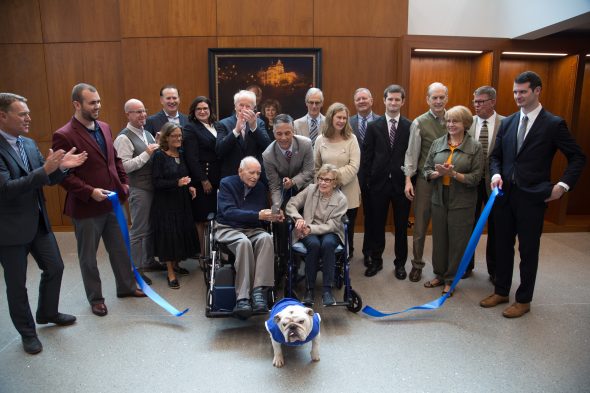 The event attended by Drake alumni Robert D. Ray and his wife, Billie, doubled as an 89th birthday celebration for the longtime Iowa Gov., former Drake University president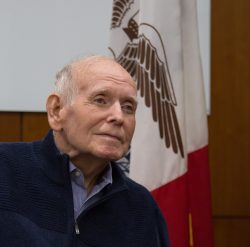 Former Iowa Gov. Robert D. Ray, one of Drake University's most distinguished alumni, received a very special birthday present today. Gov. Ray and his wife, Drake alumna Billie Ray, attended a formal ribbon-cutting celebration to dedicate the new headquarters of The Robert D. and Billie Ray Center.
The offices are on the ground floor of Collier-Scripps Hall, one of two new academic buildings that opened this year as part of the $52 million STEM@DRAKE initiative, and provide an enhanced space for The Ray Center to pursue character-building and ethics initiatives that honor the Rays' legacy.
"Billie and I are pleased to see the completion of this beautiful facility in the heart of Drake University," Gov. Robert D. Ray said in a prepared statement. "We believe it is a tremendous honor for Drake University and Iowa to capture the opportunity to be the center of civility, ethical leadership, and character development. The foundation has been set to fulfill a vision greater than any of us individually, a vision to bring together some of our nation's finest leaders and organizations to positively impact the world for decades to come."
The event doubled as a celebration of Ray's 89th birthday, with guests enjoying his favorite flavor of ice cream (peppermint) and a large batch of chocolate chip cookies.
Behind the crowd, a mural on The Ray Center's wall—painted by local artist Ben Schuh—represented some of the Rays' most powerful accomplishments. Those include Gov. Ray's pioneering decision in 1975 and 1976 to sponsor 1,500 Tai Dam people as refugees in the state of Iowa, as well as Mrs. Ray's efforts to preserve Terrace Hill and the Blank Park Zoo, her involvement in creating the Iowa Sister States program, and her commitment to imparting good character to students during her career as a public school teacher.
Scott Raecker, executive director of The Robert D. and Billie Ray Center, mentioned each of those achievements, as well as others, as examples that guide The Ray Center in their work.
"Governor and Mrs. Ray, you are not only the inspiration for The Ray Center, but your collective leadership has provided the template for balancing the world-changing vision and the necessary details to make it a reality," he told a crowd of about 75 Drake administrators, Ray Center advisory board members, and friends of the University and The Ray Center. "The Robert D. and Billie Ray Center will continue to be the place to which people turn to solve our world's most challenging issues — things like early childhood parental engagement, anti-bullying efforts in our schools, college career and citizenship readiness, corporate workplace culture, and civil discourse."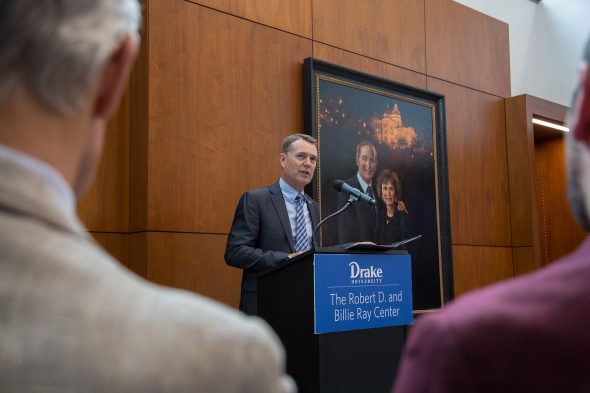 Robert D. Ray was Iowa's 38th governor, serving from January 16, 1969 to January 14, 1983. He received his bachelor's degree in business from Drake University in 1952 and his law degree in 1954. He served as president of Drake University in 1998, between presidents Michael Ferrari and David Maxwell, and has served as chair of Drake's Board of Trustees.
Drake's president, Marty Martin, said during the ribbon-cutting ceremony that he walks by a photograph of Gov. Ray—displayed to commemorate Ray's time as the University president—as he enters Drake's Old Main building each day.
Gov. Ray's presidential legacy "challenges me each day to be a better president today than I was yesterday," Martin said, adding that the mission of The Ray Center aligns with Drake's own mission, which includes a pledge to prepare students for responsible global citizenship.
"It's not just because of the long affiliation of the Rays with Drake University, but also because of the synergy between the overall mission of the institution and the particular mission of The Ray Center, that I say these two institutions are perfectly matched," Martin said. "We will indeed march into the future exploiting those synergies, capitalizing on them, and making sure that both of us are better prepared to carry out our mission and meet the promises that are embedded in those missions. And we will do all of that in honor of Governor and Mrs. Ray."
The Robert D. and Billie Ray Center was supported by a number of generous donors, including leadership-level gifts from Hy-Vee, Inc.; philanthropists Stan and Dotty Thurston; and MidAmerican Energy Co.
Guests also saw architectural renderings of the Ray Promenade, a beautiful new walkway and gathering space that will replace 27th Street on the east edge of Collier-Scripps Hall. Work on the Ray Promenade is currently underway.