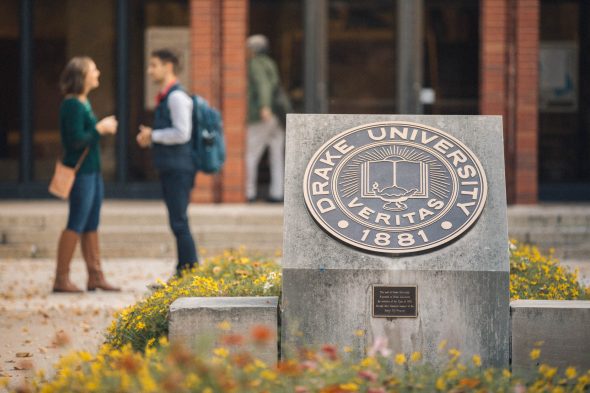 Drake University is one of the Midwest's best universities, with an exceptional commitment to undergraduate teaching, according to U.S. News and World Report's 2018 Best Colleges rankings released today.
Drake placed third for overall quality among Midwest regional universities, the largest of four regional U.S. News classifications.
Administrators and senior faculty members at other universities named Drake second in the Midwest for commitment to undergraduate teaching, a distinction that underscores The Drake Commitment's pledge to provide students with personal faculty mentorship. Only 18 regional universities nationwide were honored for undergraduate teaching.
"These rankings reflect Drake's commitment to providing an exceptional learning environment, the quality of our academic programs, and the strength of our national reputation," said Drake University President Marty Martin.
Drake received honors in a number of additional categories:
Drake was named among 15 Midwest regional universities on the "Great Schools, Great Values" list.
Drake's undergraduate business program was named one of the nation's "Best Business Programs," a ranking based solely on surveys of deans and senior faculty members at eligible business schools.
Drake's First Year Seminar was one of only 29 programs in the nation to be recognized for providing an exceptional experience to first-year students.
Drake was named second on the list of "Best Colleges for Veterans" among Midwest regional universities. The rankings are designed to "provide military veterans and active-duty service members with data on which top-ranked schools offer benefits that can help them make pursuing a college education more affordable," according to U.S. News.
Regional universities, as categorized by U.S. News, are those which award both undergraduate and master's degrees, with at least 50 percent of undergraduate degrees being awarded in liberal arts disciplines.
Also this week, College Factual, in partnership with USA Today, placed Drake within the top 5 percent of colleges and universities nationwide with the highest-paid journalism alumni, and the top 10 percent nationwide in 13 categories, including overall best in the Midwest ("The Plains States"); top-ranked business, management, and marketing programs; and highest-paid alumni in the fields of mathematics/statistics and education.
Other recent accolades include:
Drake University Law School's legal writing program was ranked 18th in the nation by U.S. News & World Report's 2018 Best Grad Schools list, released in March.
The inaugural Wall Street Journal/Times Higher Education ranking of U.S. colleges placed Drake University at 135 in a list that includes more than 1,000 schools nationwide.
Drake University is a midsize, private university in Des Moines, Iowa, enrolling more than 3,200 undergraduate and 1,700 graduate students from approximately 40 states and 40 countries. Students choose from over 70 majors, minors, and concentrations and 20 graduate degrees offered through six colleges and schools. Drake students, faculty, and staff take advantage of the wealth of cultural, recreational, and business opportunities found in Iowa's capital city. In return, Drake enriches the city through its own cultural offerings, considerable economic impact, and many service-learning endeavors, which channel the talent and energy of the Drake students toward meeting the needs of the community.