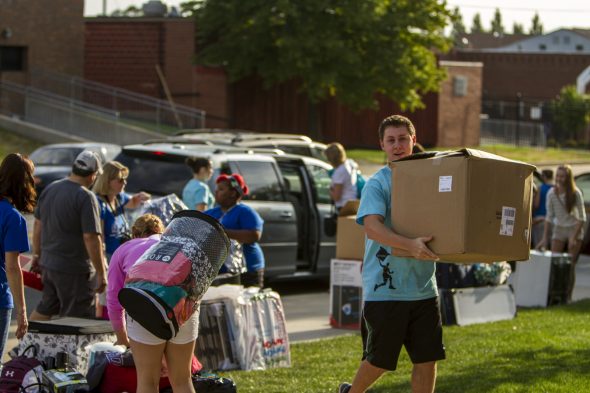 On Wednesday, Aug. 23, legions of students, faculty, and staff members will help Drake's incoming Class of 2021 move into the residence halls. More than 300 people are expected to serve on Drake's "Move-In Crew," ensuring a smooth transition for 770 first-year students, 760 of whom will be living on campus during the fall semester.
The Move-In Crew includes Drake University President Marty Martin and other university administrators as well as members of Drake's football team, fraternities and sororities, and other student organizations.
Families are invited to arrive starting at 8 a.m. Wednesday. Drivers are advised to expect traffic delays along 31st Street between University Ave. and Forest Ave. throughout the morning and into the early afternoon. More information about Welcome Weekend activities, including move-in day, is available at https://wwww.drake.edu/welcome/. 
For media inquiries, contact Aaron Jaco at aaron.jaco@drake.edu or 515-779-0526.