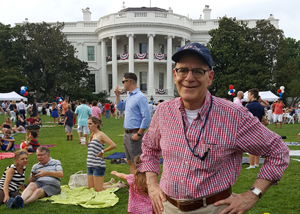 Drake Law School has a long history of alumni working in the government. One alumnus, Peter Coniglio, LW'78, even worked for the president of the United States.
Coniglio recently completed a detail as an associate counsel to President Donald J. Trump, during which time he and his colleagues were responsible for reviewing candidates for federal government posts and readying them for their nomination hearings before they were considered for approval by the U.S. Senate.
Working out of the Eisenhower Executive Office Building in Washington, D.C., Coniglio spent countless hours helping prepare nominees for intense questioning.
"We often participated in 'murder boards,'" Coniglio explains. "We acted as mock Senators and asked nominees challenging questions so they were ready for the actual hearings."
Coniglio says his position fulfilled a lifetime passion for politics. His path to the White House began in 1974, when he was admitted to Drake Law School.
After graduating, Coniglio started as a volunteer staff member for State Sen. Cal Hultman's unsuccessful 1980 campaign for Congress. He then worked on the Iowa Senate legislative research staff and held other counsel positions until 1987, when he was hired as an attorney for the U.S. Senate Judiciary Committee, providing counsel to Sen. Chuck Grassley on matters including Supreme Court nominations.
Coniglio later served as Republican staff director for the House Select Committee on Narcotics Abuse and Control. He also held various positions within the U.S. Department of Justice, including special assistant U.S. attorney in the Eastern District of Virginia.
In 2005, he joined the General Counsel's Office at the U.S. Treasury Department as senior counsel for ethics. Less than a year later, Coniglio was recruited by the Inspector General of the U.S. General Services Administration to work on his senior staff.
Soon after Trump was sworn in as president, Coniglio was approached by the special counsel to the president with the opportunity to serve as an associate counsel. Beginning in February, he worked with nominees for many key positions in the Trump administration.
"There were no typical days," Coniglio says. "Work can, and often did, run into the weekend."
Although Coniglio is now back in his previous position, he has memorable experiences from his detail working for the president. He witnessed several of Trump's cabinet members be sworn in by Vice President Mike Pence, and he attended the swearing-in of Neil Gorsuch as the newest justice of the U.S. Supreme Court.
"I was seated in the fourth row in the Rose Garden," Coniglio says of the ceremony. "The U.S. Supreme Court justices attended, as well as members of the U.S. House and Senate. The president gave his remarks, and Judge Gorsuch was sworn in by Justice Anthony Kennedy."
Coniglio attributes his success to his education at Drake Law School. He continues to give back to the Law School and attends Washington, D.C.-area alumni events.
"I am proud to have worked for the president of the United States, and it is safe to say I owe a great deal to Drake Law School," Coniglio says. "Without my Drake Law degree, I would not have had this opportunity."