A career in accounting often means working at a computer, crafting and analyzing spreadsheets and reports to document the fiscal health and well-being of an organization—important work that can mean life or death for a company.
And sometimes a career in accounting leads to something very different.
Enter Howard Livingston.
"I was not your typical green eye shade accountant," explains Livingston, BN'81. "I was not interested in just documenting what happened last quarter. I wanted to be involved in what was happening currently."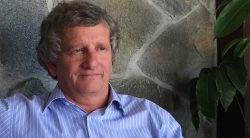 His nontraditional pursuits led to a career path that wound through the Bahamas with the Olsen twins and Miami with Prince, that led him to managing content for an animated TV show,  and now finds him introducing an up-and-coming rock band to the world.
"When I graduated from Drake I wanted to expand my horizons," recalls Livingston. "I decided I was going to California whether someone paid me to or not."
The move paid off. In 1984, he started his career with Warner Brothers and eventually became head of the finance department and Warner Home Video, and served as an artist manager—a role which made him the company's point of contact for Mary Kate and Ashley Olsen.
"It was a tremendous opportunity. It was a $100-million entity at the time," he recalls. "And as a father, I could do no wrong. My daughter was friends with the twins and appeared in some of their movies."
Livingston later became CFO of Center Stage, a company that in 2007 provided the equipment for Prince's memorable halftime performance in a raging downpour during Super Bowl XLI.
Though now technically retired, Livingston continues to pursue new opportunities.
Currently, this means serving as partner in Animagic, an animation company releasing content on a global level in 2018, and working as a partner in Recorded Records, a company formed to promote music acts that have the potential for global impact.
"My partners and I don't really know what 'regional' means," he says. "We are interested in things that will have global reach and impact."
This global aspiration and varied and successful career is due in part, says Livingston, to the experiences and mentors he had at Drake.
"My professors were not just teachers; they were all friends," he recalls. "It was a bonded group that I stayed in contact with over the years and who absolutely helped guide my career.
His plan now, he says, is to continue to develop good content for the world to enjoy. If history is any indication, we've not heard the last of this Bulldog.