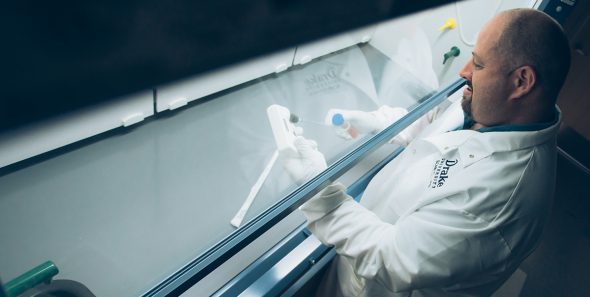 Faculty and staff moved into the Science Connector Building in July to prepare the space for the fall semester.
On August 28, 2017, students at Drake University will enter the doors of the Science Connector Building (SCB), and Collier-Scripps Hall. Faculty and staff got a head start on the SCB and moved in July 19 to prepare for that historic day. Faculty and staff will be moving into Collier-Scripps Hall, which will become home to the School of Education, throughout August leading up to the first day of classes.
Among those leading the move was Marc Busch, an associate professor of biology and biology department chair who has been at Drake since 2009. He sat on the steering committee for the building representing the voice of faculty who would be using the space.
"It's got an updated, modern feel," Busch said. "It makes students feel like they are doing something current, and they are. When they're looking at that next step after graduation, they can say, 'I've worked with that'."
The four-level, 55,000-square-foot building elevates existing programs in state-of-the-art spaces while simultaneously supporting new faculty. The building offers new spaces for existing programs as well offering opportunities for cross-disciplinary collaboration. The space will serve students and faculty in biology, chemistry, physics, occupational therapy, pharmacy and health sciences, athletic training, kinesiology, and biochemistry.
Busch said that most classrooms on campus have been redesigned to fit an existing space, where the classrooms in SCB have been designed from the beginning to help faculty and staff work most efficiently. Busch referenced three themes when talking about the design of the building: space, collaboration, and functionality.
Space
The classrooms are examples of learning spaces that can maximize not only capacity, but teachability. With multiple screens, the rooms allow for instructors to interact and engage with students. There are no podiums or front desks, but instead chairs and tables set up in pods.
Collaboration
The SCB does not house one college or department, but many disciplines that collaborate. The resulting interdisciplinary space maximizes resources to improve everyone's ability to do their jobs—which translates to more opportunities for the students.
Functionality
Busch looked at everything from a dual functionality standpoint to accommodate collaboration. The best example of that is room 209, a central equipment room that feeds into all of the individual labs and teaching labs. The room is accessible from both a research and teaching standpoint. It is located in the nucleus of the second floor of the SCB, and accessible five different ways. See the floor plan for floor 2 here.
Learn more about the construction of the STEM@Drake complex, and even catch a live look at the work via the web cam at www.drake.edu/buildingstem.