These Drake alumni find fulfillment in the field of behavior analysis, helping to improve the lives of hundreds of children with autism.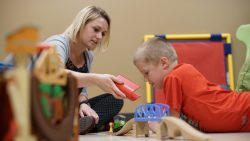 Danielle Mroz, AS'15, stretches the mouth of a balloon over a water faucet, fills the colorful globe to near-bursting, and ties it shut. She hands it to a child and repeats the process, until a crowd of 15 kids each carefully cradles their own water balloon.
This is the most rewarding part of the day for Mroz, an applied behavior analyst specialist at The Homestead, one of the state's largest private providers of services to children with autism. As the kids run outside and hurl their water balloons into a wall with a splash, they are not only having fun, but also learning.
"For some children, the activity helps to refine their motor skills; for others, it represents a reward for desirable behavior or a chance to socialize with peers of similar age," Mroz says. "We're always making every interaction a learning opportunity."
IN DEMAND
Mroz is one of four Drake alumni on the full-time staff at The Homestead's Altoona clinic, and among dozens of Bulldogs who are employed as applied behavior analysts in the state of Iowa. They work in hospitals, schools, and a variety of other care settings, helping people to reduce or eliminate disruptive, aggressive, or self-injurious behavior.
But despite the strong network of Drake grads who work in this important field, there is a need for more behavior analysts in the state. There are about 22,500 children in Iowa who would benefit from care, including more than 12,000 children with autism. In contrast, there are only 100 Board Certified Behavior Analysts (BCBAs) prepared to provide the highest available quality of care.
Sam Cermak, AS'08, director of The Homestead's Altoona clinic, is one of the state's BCBAs. She assesses the behavior needs of children with autism; develops care plans that help those children reduce challenging behavior and increase communication, social, and behavior skills; and oversees a team of specialists like Mroz to implement those care plans. Her job is demanding, but also very fulfilling.
"I find it so powerful when I am watching a family become more closely connected," Cermak says. "For example, sometimes we have parents or siblings who are initially unsure of how to interact with their child or sibling, because of differences in approaches to play and social communication, and we can help them to understand and engage more closely with one another…Those are the most fulfilling moments."
A state shortage of BCBAs like Cermak can mean delayed treatment for children like Drake Davis, a 6-year-old who waited two years before The Homestead had capacity to serve him. After about two years of care, he's gone from being completely nonverbal to talking in complete sentences. He can also get himself dressed in the morning, and is more obedient and able to control his temper.
"It's frustrating to constantly be on a wait list, because you want those services so bad and you know how beneficial they will be for your child," says Drake's mother, Johnna Davis of Bondurant. "The Homestead has been invaluable to us, and I'm very confident that if they had enough staff members, they would serve every child in need."
NEXT GENERATION
The Drake alumni who work at The Homestead share several things in common. Each said they were inspired by their faculty mentors, including Associate Professor of Psychology Maria Valdovinos, who connected them with internship and research opportunities in fields related to behavior analysis.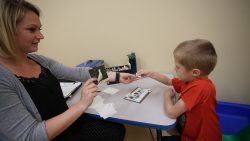 After Drake, they pursued continuing education outside of Iowa. But Iowa's next generation of behavior analysts will now have the opportunity to study here. This fall, Drake is launching a graduate-level program in applied behavior analysis, with courses offered toward a master's degree and professional certification. Funded in part by the Iowa Department of Education, it will be the only active master's program of its kind in Iowa.
Several organizations, including The Homestead, plan to form close partnerships with Drake's new program—and the news is music to Johnna Davis' ears, as well.
"Having Drake open that [program] up gives the Des Moines metro a huge advantage," she says. "It's a booming career field, so it gives us an edge for recruiting talented people into the workforce, and it also helps parents and children in need."
EXPLORING THE FIELD

Drake senior Laura Claydon, a psychology and sociology major from Eagle, Colo., is exploring the field of behavior analysis through a summer internship at The Homestead. On a recent afternoon, she worked alongside a full-time staff member to assess the care needs of Drake Davis' 11-year-old brother, Zane, who is new to The Homestead.
The staff member quizzed Zane on a series of photos from Winnie the Pooh and the Berenstein Bears books ("Who's wearing the polka dots? Who has a hat on?") while Claydon kept tally as Zane displayed instances of distracted or aggressive behavior. It's one of many exercises that form the foundation for Zane's care plan.
Although Claydon hasn't made up her mind on what she'll do after she graduates from Drake, she said Drake's new master's program is definitely on her radar. Regardless, she says, "It's really cool to have a network of Bulldogs who can provide internship opportunities like this. This is the first type of [behavior analysis] that I've seen practiced, so it's interesting to learn more about the career path."
Students who are interested in the career of behavior analysis and Drake's new graduate program, can learn more at www.drake.edu/aba. More information about The Homestead is available at www.thehomestead.org.