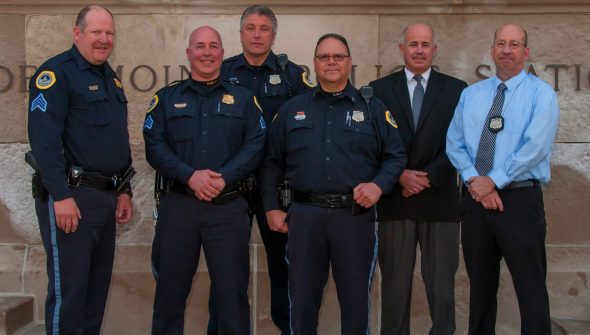 Drake's customized course on implicit bias has educated hundreds of men and women in the Des Moines Police Department, and has now been incorporated into the regional academy curriculum.
It is a common occurrence. There are two cashiers working in a grocery store, one an older woman, the other a high school kid. The younger cashier has a longer checkout line, but more customers choose her register, assuming she'll go faster than the middle-aged clerk. It turns out the opposite is true: While the older woman goes more slowly, she is more experienced and gets people through the line faster.
Director of Public Safety and Operational Services Scott Law says this is a classic example of implicit bias—when the brain makes assumptions about an individual at an unconscious level. It is not limited to race or gender and can be almost any characteristic, from physical looks to socioeconomic status to a person's political party.
"Janitors, police officers, members of Congress—we all have implicit biases," Law says. "If we recognize that we have them, we don't have to allow them to be the driving force for making our decisions."
This is the tenet behind Drake's Continuing Education and Professional Development (CEPD) course designed for the Des Moines Police Department (DMPD). Law and his colleague Brett Niederhauser, GR'14, assistant director of Public Safety, taught the course to around 600 officers and civilian employees as part of the DMPD's 2017 training.
The implicit bias course was adapted from CEPD's Cultural Awareness online course, which was first offered in 2016 and has been popular with education leadership professionals. Drake alumna Jean Hansen, GR'06, now senior online instructional designer with the School of Education, helped create the original course and repurposed its implicit bias portion for a law enforcement audience. The result was what Des Moines Police Chief Dana Wingert had been looking for.
"Implicit bias is a hot button issue right now across all fields, not just law enforcement, but it was very difficult to find a course about it," says Wingert, who lent his time and expertise to help develop an instructional video for the original online course. "We got tremendous feedback on Drake's class from our staff. It was top shelf, as we knew it was going to be."
Hansen says the police department is being proactive on implicit bias education.
"The Des Moines Police Department is and was doing a good job. Wingert just wants to keep things like this on everybody's radar," she says. "It's not that they're not aware of their biases, but like all of us, they need those reminders."
Instead of enlisting a professor to deliver those reminders, Continuing Education and Professional Development Director Chuck Sengstock, GR'11, approached Law and Niederhauser, since both have law enforcement backgrounds or familiarity with policing.
Law says the course content is timely and essential, with police interactions under increased public scrutiny and media coverage. Despite attention on biases in police departments, Niederhauser stresses that the public is just as susceptible to bias as officers. The course instructs officers on how to mitigate the community's biases as well as their own.
Class participants also learned that not all biases are bad. Some biases can save officers' lives, such as recognizing similarities between a current situation and a dangerous past experience. Other biases can put them in further danger.
"Assuming that the small blonde girl who drives a nice car can never be a danger to you can place you at risk," Law says.
Law and Niederhauser taught the class using such examples and scenarios.
"A really nice thing about the format of the training was just the level of interaction that we had with the officers," Niederhauser says. "We used a lot of exercises and incidents that created a ton of dialogue and discussion."
The DMPD's partnership with Drake is not over yet. The department asked Drake to customize the entire Cultural Awareness course, which explores additional topics connected to stereotypes. The DMPD incorporated a customized version into the Des Moines Regional Academy curriculum, now part of every prospective cadet's training.
"The very first meeting Chuck and I went to with the chief and command staff about repurposing the original course, we were kind of just throwing out ideas," Hansen says. "I walked out with my head spinning, not sure which direction they wanted to take. It turns out they wanted to head in all directions."
Other police and sheriff departments have shown interest in the course, and both Des Moines Public Schools and Heartland Area Education Agency have inquired about a customized version of the original online course. Hansen says everyone wants an approach to the issue that best fits their needs.
As long as the course and its content remain relevant, Drake's CEPD will continue to update and modify versions for whoever wishes to learn.