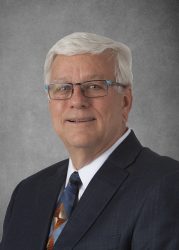 Iowa Gov. Kim Reynolds today appointed Drake University Law School Professor Jerry Foxhoven as director of the Iowa Department of Human Services (DHS).
Foxhoven, 64, has been a tireless advocate for Iowa's most vulnerable populations for more than 35 years. He served Drake Law School in a number of leadership capacities, including as director of the Joan and Lyle Middleton Center for Children's Rights from 2006 to 2011, and most recently as executive director of the Neal and Bea Smith Legal Clinic from 2008 to 2017.
As director of the Iowa DHS, Foxhoven will oversee the department that serves over 1 million Iowans each year, employs the services of more than 4,800 workers and over 7,000 volunteers, and has a total budget of more than $6 billion. The department administers Iowa's child welfare system and provides many other vital services to Iowa's most vulnerable citizens, including food assistance, Medicaid, adult mental health and disability services.
"Jerry Foxhoven has been a mentor to countless students, many of whom are now working as lawyers and lobbyists to advance the cause of improving the lives of children and other vulnerable people in Iowa," said Jerry Anderson, dean of Drake University Law School. "He brought a clarity of vision and a strength of leadership that empowered our Legal Clinic to serve more Iowans in need, and to better prepare students for careers in law."
Under Foxhoven's leadership, the Legal Clinic doubled the number of clients served in areas including juvenile, family, and entrepreneurial law. The Clinic also doubled the number of practical experiences for Drake Law students.
"Drake Law has always been at the forefront of collaboration with public and private partners to improve the lives of Iowans—and particularly of children," Foxhoven said. "It has been a pleasure to serve an organization with such a broad and meaningful impact in the state."
Foxhoven earned his Juris Doctor from Drake Law School in 1977. After graduation, he was a practicing attorney for 23 years, representing children and families in federal and state courts. From 2000 to 2006 he was chief executive officer for the Iowa Child Advocacy Board, an independent state agency dedicated to improving the lives of children in foster care. While at Drake, Foxhoven served on a number of state commissions, steering committees, and task forces dedicated to enhancing child welfare, juvenile mental health, and legal ethics.
He has received numerous state and federal awards in recognition of his service to children and families, including the Congressional Coalition on Adoption Institute's "Angel in Adoption" award (2004), the Prevent Child Abuse Iowa "Champion for Children" award (2007), the Youth Emergency Shelter and Services "Outstanding Contribution to the Well-Being of Children and Youth" award (2013), and the Coalition for Family and Children Services in Iowa "Friend of Children" award (2016).
Patricia Houlihan, a Des Moines attorney and adjunct instructor at Drake Law School, has taken over as interim director of the Legal Clinic. Houlihan graduated from Drake Law School in 1982 and started her career as a prosecutor at the Polk County Attorney's Office. She later joined The Principal's legal department, and in 1991 she was the second-ever woman to become a district associate judge in Polk County. In 1999, she left the bench to join the U.S. Peace Corps as a teacher in Russia, and upon her return she worked as a trial consultant before joining the office of the Iowa Attorney General. Houlihan has been an adjunct professor at Drake's Legal Clinic since 2009, teaching in the areas of immigration, juvenile, and family law. She also does pro bono immigration and protective order cases for immigrant domestic violence victims, and has served on boards for the YWCA of Greater Des Moines, Prevent Child Abuse Iowa, Polk County Women Attorneys Association, and other organizations. She was named Drake Law School's Alumna of the Year.