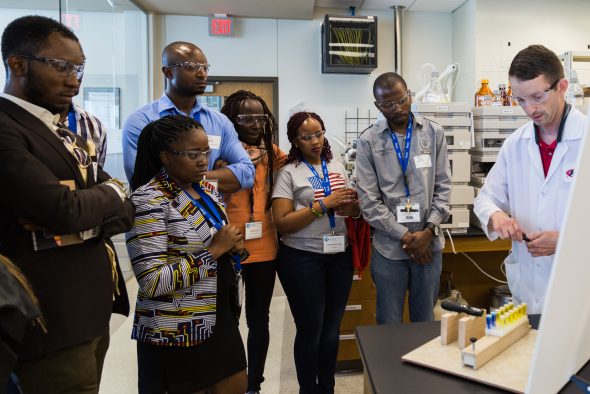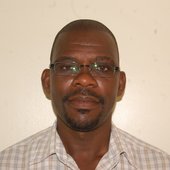 Carlos Andresile Amaku is only 33 years old, but he has already changed thousands of lives in his home country of Uganda. By drawing on his personal savings and borrowing money from family members and friends, he founded Carlos Medical Center, which serves more than 10,000 patients per year in rural communities.
Frederic Compaore is a water quality engineer who, at the age of 28, has designed a sustainable sanitation plant that provides clean water to staff members and inmates at a prison in Burkina Faso.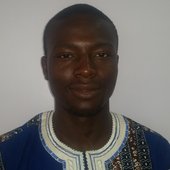 Amaku and Compaore are two of 25 civic-minded visionaries who are visiting Drake University this summer as part of the U.S. Department of State's Mandela Washington Fellowship for Young African Leaders.
The group, representing 16 African countries, will spend six weeks studying business and entrepreneurship strategies from faculty members in Drake's College of Business and Public Administration. They'll also meet numerous civic leaders and elected officials, visit some of central Iowa's most influential public and private employers, and attend cultural events.
"We are honored to have the opportunity for a second year in a row to teach, to learn from, and to befriend such a remarkable group of individuals," said Debra Bishop, professor of practice in management and international business. "The Mandela Washington Fellowship program forges international relationships that bring mutual benefit to the U.S. and Africa."
The doctors, lawyers, financial services experts, computer scientists, engineers, and other professionals participating in the program face challenges in their home countries that closely resemble some of Iowa's most pressing issues around sustainable agriculture, healthcare access and affordability, public education, and workforce training. Fellows will have the opportunity to examine those issues, while receiving formal business and leadership education that many have not had the opportunity to receive.
"Meeting and learning from bright minds, visiting different places, and getting my ideas and beliefs challenged by fellow participants in the Mandela Washington Fellowship will help influence my activities when I return home," said Stephen Chiunjira, a 29-year-old social entrepreneur, motivational author, and owner of a privately operated waste management company in Malawi. "I will be challenged to rethink my strategies and have a global understanding, while [considering] how I can effectively tackle problems of my waste management activities both in the short and long term. The friendships I will make will also help me sustain my activities through practical information sharing and expand my mental horizon of problem solving skills."
The Fellows will be in Des Moines from June 17 to July 31. Read more about all of the Fellows, and gather additional information, at www.drake.edu/yali.