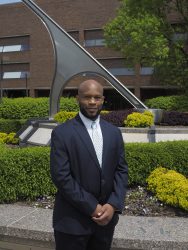 When Cedric Adams graduated from the United States Air Force Academy in 2005, law school was not part of his immediate plan.
Although earning a law degree was something he had always wanted to pursue, he first spent six years serving in the Air Force and earning his master's degree based in Las Vegas.
"My time in the military was great," Adams said. "I got a ton of experience in leadership, followership, and discipline."
After he left the military, he spent the next few years managing various industrial projects and companies in Illinois and Florida.
"Seeing production first hand and having a role in making sure employees had what they needed to do their jobs effectively and efficiently was how I got my satisfaction as a manager," Adams said.
But in time Adams's thoughts returned to law school, and he decided it was now or never. He applied to several law programs, but he ultimately landed on Drake Law School.
"Drake was by far the best school that I got accepted to, and I was really interested and excited about the practical experience that I could graduate with," Adams explained.
While at Drake, Adams threw himself into a number of activities and organizations, including the Black Law Student Association, Delta Theta Phi Law Fraternity, the Christian Legal Society, and the Public Interest Law Association. Adams also spent a semester in the Criminal Defense Clinic at the Neal and Bea Smith Law Center and as an intern for the Iowa Coalition Against Sexual Assault.
While Adams was heavily involved in the Drake and Des Moines legal circles, students, faculty, and staff agree that he truly made his mark in the Drake Law Library. Adams began working at the library information desk at the beginning of his second year at Drake Law School and quickly became a valuable resource in the Drake Law community.
"Cedric has provided excellent service in the library," said Professor Karen Wallace, reference librarian at Drake Law School. "He goes above and beyond to ensure that students' needs are always met."
In an environment so often characterized by stress and competition, people like Adams can have significant impacts to create a helpful and supportive community. He became the go-to person not only for resources and research assistance but also for advice and support.
Adams's role in the library was so exemplary that he received the 2015-16 Drake University Law Library Sinclair Award for his courteous, friendly, and professional attitude and his commitment to the library. The award is bestowed annually in memory of Cyrus Sinclair, a 2L desk supervisor who passed away in February 2007 after a long battle with sickle cell anemia.
Adams was also recognized by his peers as the 2016-17 K.M. Waggoner Peer Mentoring Award winner for making a significant and positive impact on his classmates' lives.
Now that he's graduated, Adams will soon start work at Washington State Transit Insurance Pool in Olympia, Wash., where he will manage the claims department and oversee litigation.
"There was no way for me to foresee all the opportunities and outstanding education I received at Drake," Adams said.  "I definitely have no regrets and would recommend Drake Law School to anybody."